DeCicco's Signs Lease to Move Into Millwood Plaza
We are part of The Trust Project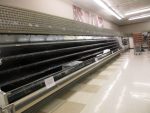 The long wait for Millwood to once again have a supermarket appears to be over.
On Sunday, New Castle Supervisor Robert Greenstein announced to town residents via Facebook that DeCicco & Sons will be moving into the space at Millwood Plaza formerly occupied by A&P.
Greenstein said despite extensive renovations that will be undertaken, town officials are hopeful that DeCicco's would be able to open by the end of the year. The lease was signed by the same owner, John DeCicco, who has been operating the DeCicco's at Armonk Square since that location's opening.
"I think it's going to be incredible for the community and for Millwood," Greenstein said on Monday. "I think it's going to be incredible for the shopping center."
The entire town has been without a supermarket since the end of last November, when the bankrupt A&P shuttered its doors for good in Millwood.
Leading up to and following A&P's departure, there was a Facebook campaign for a Trader Joe's; however, Trader Joe's representatives told officials it wasn't expanding at this time. Greenstein said about six different supermarket operators were contacted by the property owner.
While there is uncertainty regarding the timeframe for the opening, Councilman Adam Brodsky said when the store is up and running it will be a boon to the area. He said demographic studies regarding the number of potential shoppers in a five-mile radius of the site and the ability of many of those people to spend along with the outstanding reputation of DeCicco's should make the market a success.
Dawn Dankner-Rosen, president of the Chappaqua-Millwood Chamber of Commerce, said bringing a successful specialty supermarket to the hamlet should give a major boost to neighboring merchants and residents.
Although the other Millwood Plaza businesses have managed to do well over the past eight months, having an anchor store as highly regarded as DeCicco's will be even better.
"This is not just any supermarket," Dankner-Rosen said. "This supermarket is going to be a high quality supermarket. This addition has the potential for Millwood to really become a happening place, a real hub."
Greenstein said what's even better for the town is that by next year the town will have two quality supermarkets. In early 2017, Whole Foods is expected to open at Chappaqua Crossing.
When the Millwood location opens, it will be the seventh DeCicco's & Sons in Westchester and Putnam.