Croton's Thom Terrific Set to Call It Quits at Year's End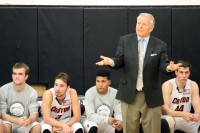 When I first came upon the local sports circuit as a wide-eyed cub reporter back in the winter of 1989, I had envisioned myself being assigned to the major Class A basketball games between teams like Peekskill and Lakeland or Yorktown and Mahopac; for these were the successful programs when I first cut my teeth on the job with the now-extinct North County News.
However, then-Sports Editor Skip Pearlman had other plans for me. The Pearl, as we called him back in the day, sent me south on slogs to cover Hen Hud wrestling, which I wasn't too thrilled about until I happened upon an eventual two-time NYS champion named Anthony Alberti, so I grew to love wrestling and eventually won the Section 1 Wrestling Writer of the Year honor when Croton-Harmon wrestling Coach Sam Occihipinti pushed for me (I'll never forget that, Sam) in the early '90s.
Croton was another place Pearlman would send me to, and I remember being none too fond of it, at first; for Croton was a Class C school on the outskirts of our coverage zone, so it almost seemed like a punishment to a rookie reporter who yearned for a piece of Class A scene and the hype and hoopla of the Lakeland/Panas rivalry.
But that was Pearlman's baby, so off I trekked to Croton, 35 millimeter camera and six rolls of black and white film in tow. I would soon discover something very special about the ambiance of Croton-Harmon High and the well-dressed and equally well-groomed coach on the Croton hoops sideline. Billy Thom's Tigers could pack the house back then, just as they do today; because Billy T (as I would grow to call him) could draw blood from a stone when it came to getting the most of his student athletes, and, sadly, this will be his last season, as he has announced he will be stepping down at the conclusion of his 40th season.
There were times when Thom's teams weren't anything special on paper, but his players would crash through walls for him, packing a boatload of fundamentals into their often-undersized frames while snaring 11 league championships and appearing in two Section 1 title tilts. I would come to find out that Class C basketball was every bit as competitive and fun as Class A ball, so long as Billy T was patrolling the sidelines, reverently working the refs like few could; pushing the envelope as much as he could without crossing the line of indiscretion.
And when he did have above-average talent – players like Greg Muller, Nick DiMaggio, Matt Montana, Greg Robertson and Ben Martucci – Thom could often be found at the County Center, or at least one win away from the Final 4 with those trusty, loyal sidekicks by his side: Assistants like Steve Purcigliotti, Nick Nastasi, Don Daubney, Dave Carr, Jimmy Higgins and Joe Streany Sr.
Saunders Coach Anthony Nicodemo is another branch off Thom's coaching tree, having served under him in the '90s. His methods rubbed off and remain a part of Nicodemo.
"I've had the pleasure of working under some great coaches as an assistant, and Billy has had the biggest impact on my basketball career," said Nicodemo, who guided Saunders to the Class AA Final 4 last year. "And 16 years later I still use things I learned from him. He's a tremendous mentor to many, and the local basketball community will not be the same without him."
Thom could tête-à-tête basketball with a mute, so long as they appeared to be listening, but more often than not he had your attention simply because he cared more about Section 1 basketball more than most guys ever did.
In the 40 years he's graced the Croton-Harmon hardwood, very little has changed; other than the way parents throw themselves into the fray these days and Croton moving up to Class B. Thom's teams still run through walls for him, they are still among the most fundamentally sound and best-coached players in Section 1 and he's still needling the officials, who have respected his class since Day 1 back in 1985.
And that is why I was saddened to hear the news that Billy T, who dubbed me the Kiss of Death because I usually showed up for his biggest games (many losses), would be retiring at the conclusion of the 2016 season. He has meant as much to Section 1 basketball as anyone before him, and there should be a place in the NYS Hall of Fame for him sometime down the line, because they only make plaques for guys that matter, and Thom, fast approaching 400 career wins with a lifetime record of 390-240, means more to Croton and Section 1 hoops than most folks ever did.
Take a bow on your way out, my friend; you've earned it…
Hey listen up, my man Rick Kuperberg is a beyond-your-imagination-good photographer who has been styling on the pages of the Examiners for about two-plus years now. He does this selflessly (sans pay, people), folks, so hit up his website (www.HVSP.photos) and throw him the bone I can't by hitting up his galleries and actually purchasing a photo rather than swiping one from him. Otherwise, they'll be less photos and more of my drivel…
Matt Mello resigned as football coach at Putnam Valley High last Friday and that became one of the sadder days in PV sports history. Mello, who took the program to its only Class B Final 4 last October, is about the best thing to ever happen to the football program, and will be surely be missed as he seeks to develop what would be a promising administrative career. That said, the business of replacing the coach is the next order of business. Mello is suggesting his J.V. Coach Ryan Elsasser become his replacement, but there are sure to be inquiries from others, including Croton-Harmon Coach John Catano, The 'Big Cat', a two-time Section 1 champion, will be idle this fall because Croton will not field a varsity team in 2016, as the program attempts to rebuild from within its J.V. and modified ranks. That leaves Catano with both time on his hands and interest in the PV gig.