Cindrich: Trump Contractor Cut Down Trees on Village Property
We are part of The Trust Project
Mount Kisco Mayor Michael Cindrich last week accused a contractor employed by Donald Trump of cutting down trees on property adjacent to Byram Lake in connection with the celebrity mogul's Seven Springs project in Bedford.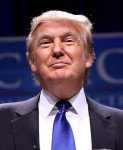 The discovery prompted Cindrich to write a letter to the Trump Organization charging that the unidentified contractor trespassed on village property and to have the developer supply an inventory detailing how many trees have been eliminated from the site. Cindrich said he hopes the village can be reimbursed for the damage.
He sent his letter on March 4 to Deborah Stellio, who is overseeing the development of the Seven Springs project. He read the correspondence in public during that evening's village board meeting.
Trump plans to build nine mansions on the 103-acre Bedford portion of the 213-acre property that also stretches into North Castle and New Castle.
Bedford Director of Planning Jeffrey Osterman said last week Trump received preliminary approval from the Bedford Planning Board for the subdivision more than two years ago. Trump formerly sought a golf course for the site.
Byram Lake and its surrounding land is owned by Mount Kisco and is the village's main source for its drinking water.
In his letter to Stellio, Cindrich stated that he visited the village's Byram Lake property on Jan. 9 and concluded that Trump's contractor wrongfully accessed land and cut down trees on village property.
"Based on the site inspection, field surveys and photographs, it appears that your organization has trespassed on the village's watershed lands within the Town of North Castle by cutting down a significant number of trees and compromising the steep slope which abuts our water supply serving thousands of residents and businesses in Mount Kisco, Bedford and New Castle," Cindrich stated.
Cindrich said he wanted the village to have access from Trump's property to Mount Kisco's land so a surveyor could delineate the municipality's property from Trump's. The surveyor would "conduct an inventory of the extent of the damages sustained as a result of the trespass," Cindrich stated.
The mayor also wrote that the village would seek compensation for lost trees, reforestation and slope stabilization.
"Our primary goal is preservation of the watershed," Cindrich said at last week's meeting.
Messages left last week for Charles Martabano, an attorney representing Trump before the Bedford Planning Board, were not returned.