Chappaqua Native Dar Williams Returns to Westchester With Irvington Concert
We are part of The Trust Project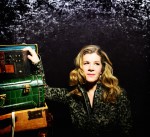 For the past two months singer-songwriter Dar Williams has crisscrossed North America promoting her album "Emerald." But no matter how busy her schedule may be, Williams makes sure to find time to entertain her fans back home.
This Saturday night Williams will be performing at the Irvington Town Hall Theater, a one-night engagement that is part of her 2015 tour that followed Emerald's unveiling last May, her ninth studio release.
"I find myself playing Westchester once a year because somewhere along the line it's convenient to go home for a rest either before or after," said Williams, who was raised in Chappaqua and is a 1985 Horace Greeley High school graduate.
Certainly, her schedule has been hectic this fall. The Irvington performance comes during a month where she has included other dates in the metropolitan area: this Friday at the Town Crier in Beacon; the South Orange Performing Arts Center in New Jersey on Dec. 17; the Landmark at Main Street in Port Washington, L.I. on Dec. 18; and Dec. 26 and 30 at the Bell House in Brooklyn.
The tour has also taken her from Londonberry, N.H., to Phoenix and Vancouver and back.
The 11 songs on "Emerald" represent a combination of new material, collaborations with friends in the music industry and covers. Included on the album are artists such as Richard Thompson, Jill Sobule, Jim Lauderdale, the Milk Carton Kids, Lucy Wainwright Roche and Suzzy Roche and others.
Williams said what made this experience so unique was "Emerald" was completed piecemeal over an extended period in between her travel dates and other obligations. Studios in Maine, New York City, Nashville and Los Angeles and elsewhere all played a role in the finished product, which is not the preferred way to record an album. The reviews have been strong.
"Dar Williams is a songwriter of immense talent and her new album, 'Emerald,' is a work of real depth," wrote The Telegraph in the United Kingdom. "From the powerful opening song about staying strong in adversity ("Something to Get Through") to the mordant "Mad River," this is a work of mature and thoughtful songwriting."
It is also a testament to her longevity and ability to adapt. Williams has impressed fans and music industry insiders with her staying power – now more than 25 years later– and heartfelt lyrics and music.
While playing Westchester has special meaning for Williams, she's also mindful not to turn Saturday's concert into old home week. She said audiences today are too savvy for that, whether you're on stage in Manhattan, in Westchester or anywhere else.
Home these days for Williams is not far away in Cold Spring. For part of the time that she's there, Williams conducts a five-day songwriting retreat called "Writing a Song That Matters." She had two separate sessions last summer held at the Garrison Institute in Putnam County.
What's special is that each participant, most of whom are not professional musicians, meet with Williams individually and she is also one of the instructors. Williams said many people have the tools to express themselves through their own music and lyrics.
"It in your brain," Williams said of songwriting. "No matter what your background or your training, you have to use your creativity and it's there in your brain at some point."
For tickets to this Saturday's show, visit the Irvington Town Hall Theater at www.irvingtontheater.com.