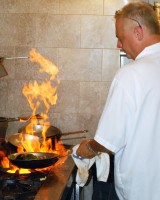 Karma can be a heck of a thing to battle. Lou Cilento, owner of Ciro's Restaurant & Lounge, gets that. Of the scores of owners to have occupied the 115 Secor Rd. address in Mahopac, few have achieved the necessary level of success to sustain a prolonged run in the food and service industry.
Executive Chef Cilento won't allow those bad vibes keep him from taking Ciro's to heights that other culinarians have struggled to bring about. Having prepared meals at the Sands Casino in Atlantic City for over 20 years, Cilento isn't afraid to take a gamble.
"Everything is fresh, prepared right here on premise and we can make it any way you like," Cilento said at the newly renovated digs as a five-piece band set up for another fun-filled evening. "Great food and entertainment is my business, and we aim to please. People don't know that we're under new management, that the place has been completely renovated and we have live entertainment on Fridays and karaoke on Saturdays. We want the community come out and enjoy all we have to offer."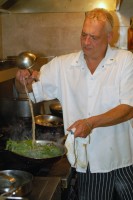 What Cilento offers, above and beyond a fully stocked bar, three hi-def TV's and a fun wait staff, is a tremendous lineup of entrees, including a selection of Italian and American dishes, plus a top-notch seafood pizza that features mussels, shrimp, clams and scungilli. Menu highlights include various veal, fish, pasta and chicken dishes such as veal vesuvio, pistachio-crusted tilapia, chicken scarpariello and fried asparagus, plus and assortment of deserts, including chocolate mousse and cannolis. The seafood harvest is to die for. Ciro's also offers up a pizza special, including a $10 18-inch large pie, or two large pies and a house salad for $20 Tuesday-Thursday.
"Your needs will be fulfilled and we will leave your mouth watering for more," Cilento said.
Ciro's is located at 115 Secor Rd, Mahopac, NY, 10541. Call them at (845) 628-5888 or find them on Facebook for a look-see at what's going on between food specials (prices range from $10-30) and live entertainment. Closed on Mondays, Ciro's is open Tues-Thurs (1 p.m. – 10 p.m.); Fri.-Sat. (1 p.m. – 11 p.m.) and Sundays (1 p.m. – 9 p.m.). Ciro's is also available to host for all your party needs with full-service catering and a seating capacity of 52.
"I don't think I will cook ever again," Mahopac resident Ursula Vucci-Giglia quipped after a recent meal.
Chef Cilento likes those odds and willingly accepts the challenge with an open invite for all.