Armonk Teen Continues to Make Waves in the Theater World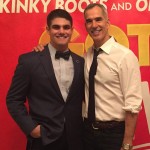 It's fitting that the latest work in the theater for Armonk's Alex Baron is being involved in a production that tells the story of a 60-and-up dance team.
For Baron, age has made no difference to him or those that he's worked with in the industry.
Baron, who in the past two years has written and produced a one-act play and produced a full-length Off Broadway show in Manhattan, is an 18-year-old Penn State University freshman enrolled in the school's Stage Management Program.
With the opening of the pre-Broadway premiere in Chicago this week of "Gotta Dance," the story of the introduction of the New Jersey Nets' senior dance troupe to the team's halftime show in 2007, Baron is on track to become the youngest person with a producer credit for a Broadway show.
"Gotta Dance," which is starring in the Chicago production Tony Award nominee Andre De Shields, Georgia Engel (best known for her appearances on "Everybody Loves Raymond" and "The Mary Tyler Moore Show") and Stefanie Powers ("Hart to Hart"), is being targeted for an opening on the Great White Way next fall.
For the past few months, Baron has been working with the award-winning Broadway and film producer Dori Berinstein and noted animated film producer Bill Damaschke, who was chief creative officer at DreamWorks Animation, learning from two of the best about the theater industry.
"The nice thing I get from working with people like Dori and Bill is the experience," said Baron, who started acting at five years old and was involved in productions when he attended Byram Hills High School. "It's not to get credits to put on your resume but the experience and the knowledge you get from these credits is what matters."
He said Berinstein and Damaschke have been receptive to his ideas for "Gotta Dance," which has about a 20-member cast. Baron has been able to put a younger theater patron's perspective on a show about how a group of senior citizen dancers, known as the NETSational Seniors, learn hip-hop and refuse to be cast aside because of their age. The troupe remains intact even after the Nets' move to Brooklyn several years ago.
Baron, who has been assisting with the social media and marketing efforts for the show, said his goal is to reach the younger generation. He was at the show's opening Monday night.
Baron's involvement with "Gotta Dance" comes during his first semester at Penn State.
"It's really special because you're not getting training in one aspect of the industry but the entire world of theater," he said of his enrollment in stage management.
Baron has had an upward trajectory with professional theater. In 2013, he wrote and produced the one-act play "Love Behind Bars," which was performed at the Manhattan Repertory Theatre. The contacts he made through that show helped him produce the Off Broadway play "Vote for Me," a musical version of a presidential debate where the audience voted for the candidate of their choice.
Despite his successes, Baron said he stays humble and hopes to continue to learn from everyone that he encounters.
"The experience and knowledge that I'm getting is unbelievable," he said.