Yorktown's Holland Sporting Club Demolished
We are part of The Trust Project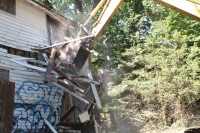 Holland Sporting Club is officially no more.
After being vacant for more than 25 years and in the Town of Yorktown's possession for the past six years, the 14 buildings that stood on the grounds have been demolished, and according to Town Councilman Dave Paganelli, it was done under budget.
"The town budgeted $70,000 to have the buildings torn down," said Paganelli. "Because we did it in-house, to date (as of Monday) the town has only spent $12,526.69."
By the time the project is done, he said, it is expected to cost the town about $40,000.
"We expect to save over $30,000 for the taxpayers of Yorktown," said Paganelli.
Town Supervisor Michael Grace credits Town Highway Superintendent Eric DiBartolo and his crew for volunteering to do the demolition through their department, rather than have the town bid it out to outside companies.
"These guys saved the town tens of thousands of dollars by doing this in-house," Grace said. "It shows what can be done when there is cooperation within the town itself."
The demolition process began on July 5 and is expected to continue through the end of this week.
"These guys are going to do the same quality cleaning that you would expect from a company being paid $250,000," said Councilman Vishnu Patel.
Wood chips are expected to lie in the area once occupied by buildings. Once the area is finally free of structures, the question becomes what to do with the 14-acre, peninsula-shaped property that is surrounded by Lake Mohegan.
"I think this property offers itself to a lot of possibilities," said Grace. "The Town Board is going to seek some professional opinions on what to do with it."
The 14-acre property was once a summer resort that dates back to the 1920s. The town officially purchased the property on May 24, 2005, for $300,000 with park and recreation funds and deemed the parcel parkland. At the time, the property had an assessed value of over $2 million.
Grace said he is not against having at least portions of the property decommissioned and sub-divided.
"The flat area would be great for some ball fields," said Grace. Both he and Paganelli said they were willing to hear proposals from private developers.
DiBartolo recommended allowing a condominium development to be built on part of the land, just like the Villas of the Lake development on the other side of the lake.
"It would increase the town's tax base," said DiBartolo. "[The property] already has sewers, so it is a home run."
In order for the town to decommission the property as parkland, it would need permission from Albany. A resolution would have to be passed by both the Assembly and the Senate. Then it would have to be signed by the governor.
Neither the Assembly nor the Senate has sponsored legislation pertaining to the matter.