Westchester Art Studio, Pleasantville
We are part of The Trust Project
A gifted illustrator and a former art director have breathed new life into teaching art for children and adults.
Fun, engaging classes are being offered by renowned illustrator Alan Reingold and former Reader's Digest art director Amy Shaw in what is known as Westchester Art Studio.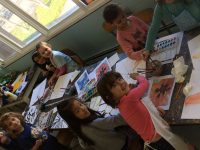 The afterschool program opened last year with the intention of filling a void missing from the area's public school art programs.
The business partners met when Shaw's daughter was taking a class of Reingold's in Mount Kisco. After talking, they quickly realized that by combining their talents they could offer something unique to local families looking for more individualized art instruction for their children.
The studio, which is also open to adults looking to hone their artistic skills, is housed in the Pleasantville Presbyterian Church.
Shaw, a painter who exhibits on a frequent basis, teaches the Kids Create class for 5- to 10-year-olds, while Reingold, who has produced more than 100 magazine covers and has been commissioned to draw portraits of several U.S. presidents, including President Barack Obama, teaches the Drawing and Painting for Teens and Adults class. Both classes meet twice a week, on Monday and Saturday afternoons, for four-week sessions each month.
Integrating history and including the work of famous artists such as Georgia O'Keefe and Andy Warhol, among others, in the curriculum is one of Shaw's signature teaching styles. Reingold said Shaw can make it intriguing even for the youngest of students, while at the same time providing them the basics of shape, color and various art styles.
"Even for six- or seven-year-olds, Amy finds a way to make it interesting, whether it's by showing a short video or by taking out a giant art book," Reingold said.
Shaw, who volunteers on weekends as an art teacher at the Renaissance Youth Center in the Bronx, said she has as much fun teaching her students in Pleasantville as they have learning. Children get the chance to experiment with charcoal, acrylics, watercolors, tempura paints, oil, chalk and color pastels, printmaking, collage and clay.
Reingold, who has taught at the Parsons School of Design in Manhattan for 30 years and who served as visual arts director of the now closed Northern Westchester Center for the Arts, is focused on providing step-by-step techniques in drawing and painting for students of all levels.
"Color is nothing but a recipe," said Reingold, referring to the mix of colors that can make every painting unique.
He derives great pleasure from working with teens, even those as young as 13 and 14, who are eager to gather a college-level portfolio, and with adults who have drawn before but now want to enhance their skills.
Both classes are held in the same space and allow for camaraderie and cooperation between the two groups, Reingold said. Students with disabilities are welcome at Westchester Arts Studio, with many of them joining the last half-hour of classes and benefiting from both teachers' expertise.
"The students who come here have a lot of fun," said Shaw, who was a fine arts major. "It's not school. Everyone is here who wants to be here."
The studio offers various camps throughout the year as well as private and semiprivate lessons in students' homes.
Pleasantville Presbyterian Church, where Westchester Art Studio is located, is at 400 Bedford Rd. in Pleasantville. Art samples produced by the studio's students can be seen on Facebook at www.facebook.com/westchesterartstudio.
For more information, visit www.westchesterartstudio.com. Registration is currently ongoing for classes in December. To sign up, call 914-238-5252 or e-mail westchesterartstudio@gmail.com
Colette Connolly is a copywriter and p.r. expert. She owns Connolly Communications, which is based in Bronxville, New York. Colette specializes in providing content-rich, SEO-optimized press releases, articles, newsletters, brochures, and customer success stories.