Tigers Beat Crusaders 6-1, in the Joe McAvoy City Challenge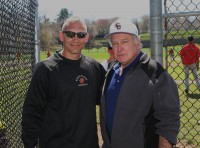 On Saturday afternoon, White Plains Head Baseball Coach Marcel Galligani took the field and welcomed fans to the 13th Annual Joe McAvoy City Challenge, at White Plains High School.
After the playing of the National Anthem, Tigers former Head Coach and City Challenge namesake, Joe McAvoy threw out the Ceremonial First Pitch to commence the City of White Plains rivalry baseball game with White Plains High School versus Stepinac High School.
McAvoy is a legendary former Head Baseball Coach of the Tigers, who was at the helm for nearly 20 years, during two terms, 1975-'85 and 1990-'99. McAvoy is responsible for building the foundation of the Tigers baseball program, which Galligani has enhanced to date.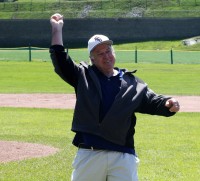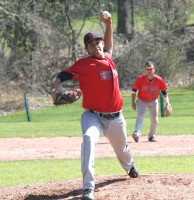 It was a beautiful Saturday afternoon and fans from both high schools in White Plains packed the stands and the grass bordering the field to watch the Joe McAvoy City Challenge. Galligani dressed his players in "throwback" uniforms dating back to McAvoy's era to pay tribute to the Tigers legendary Skipper.
"I really look forward to this game because what better way to spend a beautiful day than to watch two high schools compete and watch these young men trying to do their best. I love the game of baseball," said McAvoy.
White Plains (4-0-1) got the best of Stepinac (7-3) this year, while beating the Crusaders 6-1. Tigers starting pitcher Brendan McDonough was steady on the mound, while pitching six innings, allowing only one run on four hits with four strikeouts and three walks.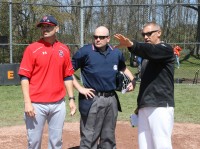 McDonough did not allow a run until the sixth inning when Crusaders Kendell Luquis hit an RBI single and scored Nicholas Antenucci. "I thought I pitched well but I thought we played well overall as a team. I think we have been doing that the past few weeks," said McDonough.
White Plains Opening Day pitcher Daniel Lotito labeled the Tigers starting rotation "The Big Three" in my story last week and "The Big Three" as in McDonough, Lotito and Spencer Lodes have been just that thus far this season.
After Lotito pitched a gem of a game in the Tigers Home Opener on April 6, sophomore righty Spencer Lodes almost pitched a Perfect Game against Scarsdale High School on Thursday, April 14.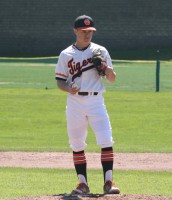 Lodes threw a one-hitter and did not let a Raiders runner reach base until the fifth inning and that was on a pass ball. Lodes faced only 24 Raiders batters and threw a mere 64 pitches (nine pitches an inning) with 11 strikeouts, as the Tigers shut out Scarsdale 19-0. "I just felt good that day and I trust my defense. I know if someone hits the ball someone is going to make the play," commented Lodes.
Stepinac's starting pitcher Richie Rodriguez was having a good game in the McAvoy Challenge, until the fifth inning. The Crusaders sophomore had only allowed three hits and one run until the Tigers bats came alive in the fifth inning with four straight hits.
Rodriquez was relived by Chris Zettle but there was no cure for the Tigers bats. The Tigers batted around in the fifth inning for six hits and five runs off three Crusaders pitchers. Rodriguez's line read: four and one-third innings, four runs, seven hits, one walk and two errors.
Leadoff hitter Steven Rand and Lotito in the third hole were the catalyst at the plate for the Tigers. Rand had two hits and scored a run and Lotito had two hits an RBI and scored a run.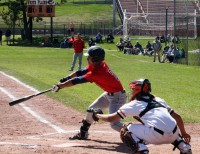 "It was a great turnout; this game always draws a nice crowd. It is nice to get a win in a game like this in front of your home crowd and city," said Galligani.