Stepinac Record at 5-5 After Defeat by Hayesmen, 85-70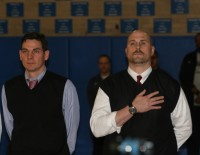 The Stepinac High School Basketball Team record stands at 5-5 thus far this season, after losing to Cardinal Hayes High School 85-70, on Saturday.
The game marked the return to the Stepinac hardwood of former Head Coach Tim Philp, who resigned after the 2012-13 season to tend to family issues. Philp, a 1995 graduate of Stepinac, coached 10 years at Stepinac, with nine of those years serving as the varsity Head Coach.
Philp departed Stepinac after having one of his best seasons in 2012-13, while leading the Crusaders to a 20-8 record and the CHSAA AA Semifinals for the first time since 1986. Philp was selected as the CHSAA AA Coach of the Year for his efforts that season.
Philp decided to return to coaching after the birth of his second child, who is presently one and half years old. He joined the ranks of Cardinal Hayes High School, under Head Coach Joseph Lods, as their new Associate Head Coach this offseason.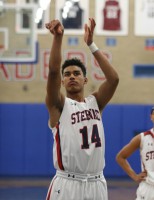 "It feels good to be back. I love Stepinac, I am alumnus here and it always feels good to return," said Philp. "Joe (Lods) and I have a great relationship and we always did. Joe let's me do a lot with the team and I like this role. I am learning from him and he is learning a little from me, so it is good," commented Philp.
Philp coached such Crusaders basketball notables as Stepinac's All-Time Leading Scorer Tony Taylor, Melquan Bolding, Conroy Baltimore and Josh James. He sent 17 players on to college, during his tenure as the Head Coach at Stepinac. "Tim is an excellent coach, he won Coach of the Year in the past and City Championships; it is a God send to be able to have a man with his resume sit next to me on the bench," commented Lods.
Just how well will the Lods/Philp partnership work for Hayes is yet to be seen. Nonetheless, eight games into their first season together, Hayes is 5-3, and dealt Stepinac a 15-point loss when the Crusaders desperately needed to "stop the bleeding" after three straight losses.
Stepinac began their 2014-15 campaign winning four straight games until they were defeated by St. Raymond's High School, 85-48, on December 16. The Crusaders bounced back against St. Peter's High School, on December 21, with a 57-50 victory but were set back again by Xaverian, 70-52, two days later.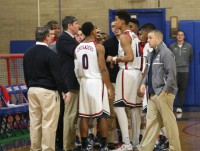 The Crusaders faced two strong teams in this year's Slam Dunk Tournament at the Westchester County Center and suffered defeats in both games. They lost to probably one of the best Section 1 teams, Spring Valley High School, 76-67, in the Opening Round and succumbed to Iona Prep in the Consolation game, 72-58.
Therefore, Stepinac remains playing .500 percent basketball. But as second-year Head Coach Steve Herman said, the season is sill young. "There are no easy games in this league. It is a long season, it is January 3, and we have 14 games left. We are still learning, we are still young and we are still getting better," stated Herman.
Relatively, the Crusaders Head Coach has much reason for optimism with White Plains High School transfer Jordan Tucker donning the Crusaders red, white and blue this season. Tucker transferred to Stepinac this season and already has had prominent Division 1 college coaches visiting Stepinac for a look at the sophomore phenom.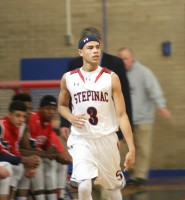 Tucker had 12 points against Hayes but fouled out with one minute left in the game. "Coming into the game, I was off but my teammates were picking me up," said Tucker. "I was just trying to play hard for my teammates. I got in a little foul trouble, so I felt a little resistant on defense, worried to pick up that next foul," Tucker said.
However, Tucker's addition to the Stepinac line-up with seniors Kylan Guerra, Tyrin Miller, Tommy Cola, Dylan DeMuro, Rashad Baker with junior Kaellen Henderson is well understood by Herman. "I thought Jordan played well. When he touches the ball on offense good things happen because he is such a facilitator and teams tend to double team him," said Herman.
Regarding Tucker's statement that his "teammates picked him up" against Hayes, nothing could be truer considering Guerra's game-high 30 points and Miller scoring 16 points in defeat. "Kylan has been great for us this year, I cannot speak highly enough about him. But it is a team game and we need more than just Kylan to step up, we need everybody to step it up," said Herman.
Guerra also received a prestigious distinction this week, being selected as the Con Edison Athlete of the Week for athletic and academic achievements. "It definitely feels good knowing that you can compete well athletically but also demonstrate that you can perform well in the classroom too," said Guerra.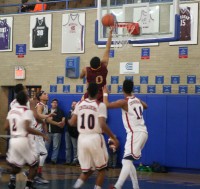 Stepinac will get another opportunity against the Cardinals when they face them again in the Bronx, on Tuesday, Jan. 13. Hayesmen forward Jeffrey Hayden and guard Clive Allen exploited the Crusaders in the paint for 26 points and 23 points respectively, on Saturday. However, two of Stepinac's tough defenders Cola and DeMuro did not play. Cola was out with a concussion and DeMuro was serving a league suspension for Technical Fouls.
"The season is still young" as Herman said. However, Stepinac begins a three-game road trip starting at Iona Prep, on January, 9, at Mt. St. Michael, on January 10, while ending the trip with the rematch against Hayes. And as Herman also noted, "There are no easy games in this league."