Somers Boutique Adds Women's Fashion and Accessories
We are part of The Trust Project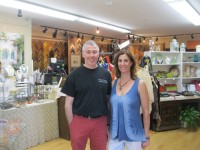 Somers Custom Framing & Gifts has been a popular shopping destination for more than eight years.
But while the boutique continues to offer framing services and a variety of gift items it has also increased its offerings of women's clothing and accessories for the past two years.
"Now we have a customer base, so we're shopping for our customers," said North Salem resident Ginny Ryan, who co-owns the store with her husband Ken. "We find that the ladies who come in they're looking to shop for themselves and for gifts for people. We've gotten a lot more fashion accessories, clothing, (and) a lot of jewelry."
The fashion accessories are reasonably priced, she added.
Every six weeks Ryan said she travels to New York City to attend fashion shows, in addition to attending gift and fancy food shows in the city. Customers often ask for specific items from fashion shows including women's jewelry shirts and tops, she added.
"Fashion shows are our favorite," she said. "You get a feel for what's coming out and fall in love with the new clothing."
Though several fashion accessory and women's clothing items have been introduced to her store over the past two years, it still sells many gift and food items. There are soaps, lotions and wallets for men, food items that change often, including chocolate popcorn dessert pizzas, salsas, jams and jellies; and clothing, toys and vintage traditional games for children.
"Most people shop for gifts and the women are coming in now shopping for themselves as well," she said.
One of the store's continuing features is its framing services provided by Ken Ryan. "A lot of people don't know where to get good framing done," he said, noting that customers come from all over the area for his services.
Ken Ryan said he will frame "just about anything," including art, documents, sports jerseys and three dimensional collectable items.
Somers Custom Framing & Gifts is located at 253 Route 202 in Somers. For more information, call 914-276-3173, visit somersframing.com or send an e-mail to ken@somersframing.com.