Restaurant Examiner: 273 Kitchen, a Mediterranean-Inspired Restaurant Opens in Harrison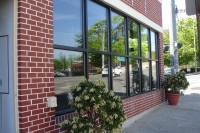 A unique dining concept awaits customers at dinnertime at 273 Kitchen, which opened in Harrison in late April. The Mediterranean-inspired menu provides three listings called first, second and third courses and patrons typically select one item from each. The portion sizes are larger than the "small plate" fare offered at many restaurants but smaller than typical entrée sizes.
With dessert included as a fourth course, the cost per person is $45 plus tax and gratuity. As an alternative, guests can order individual items à la carte instead of the four-course meal — all menu items are priced at $25 or less and some cost only $10 or $11.
The menu changes daily and is totally dependent on what is available that day at local suppliers including farms and the New Fulton Fish Market Cooperative at Hunts Point in The Bronx.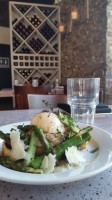 The menu is finalized and printed late in the afternoon — this can occur only one-half hour before the restaurant opens at 5 p.m.
There is latitude for the patrons in making their selections — for example, the selection of two course-one items and no course-two items is cheerfully permitted. The wait staff is trained to assist in decision-making and will recommend combinations, which blend well together for flavor and balance. Each wait-staff person handles only eight customers — allowing ample time for describing dishes, making suggestions, and providing guidance.
Although determining what goes on the menu is a daily task, some dishes are frequently repeated such as fresh-shucked oysters and house-cured salmon gravlax (course-one items), and Montauk fluke and King salmon (course-three dishes).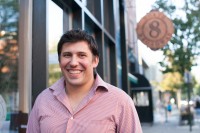 A 100-seat sister restaurant employing the same menu concept as 273 Kitchen is planned for opening in Mount Kisco in July. It will be called 251 Lex.
On the day I visited 273 Kitchen last week, the following items were offered.
First course choices: Oysters, gazpacho, mezze platter with dips and crackers, razor clam, crudo of yellow fin tuna, mahi-mahi, marlin and shrimp combination, and antipasti with meat and cheese.
Second course items: crunchy Romaine salad, beet salad, soft poached egg and asparagus, stuffed ravioli, lemon chicken wings, hot potato tots, Spanish octopus and pork belly a la plancha.
Third course dishes: "Fish of the Moment," branzino, Montauk porgy chop, crispy soft shell crab, Goffel Farm organic chicken, roasted pork sausage, 8-ounce Wagyu burger, and 6-ounce grass-fed rib eye steak.
The restaurant has an open kitchen, 30 seats inside and additional sidewalk seating, weather permitting. For close-up viewing of the kitchen activity, two tables for two are available alongside a short wall separating the open kitchen from the dining area.
"An open kitchen creates a sense of intimacy and play; it heightens the entire dining experience," said chef/owner Constantine Kalandranis.
The opening-team members include Kalandranis, executive chef Hichem Habbas, sous chef Kayce Lanfair, general manager Chris Creedon, and assistant manager/partner Louis Cea. Michael Raneri is a partner.
Previously, Kalandranis opened 8 North Broadway in Nyack. He and his wife Johna Riccardi-Kalandranis (also a CIA graduate), and their two-year-old daughter Isla and two-week-old son Leo Mathias live in Mount Kisco.
Born and raised in Algeria, Habbas came to America as a teenager and worked with Kalandranis at eXo and Anthos before they opened 8 North Broadway in Nyack. He is a graduate of the Institute of Culinary Education.
Cea, a 50-year veteran in the restaurant business, was born into an Italian restaurant-involved family living in The Bronx that started the famous Faiella's Pine Tree Inn in the 1940s. He later was part of a second generation to helm the restaurant.
Tableside finishing is an attraction for several dishes such as sizzling Spanish octopus and angel-food cake.
Kalandranis pointed out that bottles of wine at 273 Kitchen are marked up at only twice the actual cost. At many restaurants, the practice is to markup wine at three or four times cost. Half-size bottles, wine by the glass and beer are also available.
Dinner is served seven days a week from 5 to 10 p.m. At Sunday brunch, mimosa "bottomless" refills are free; brunch is served from 11:30 a.m. to 4 p.m.
273 Kitchen is located at 273 Halstead Avenue in Harrison, on the corner with Harrison Avenue, and near the Metro-North train station. A free parking lot is directly behind the restaurant (enter from Harrison Avenue). The location was previously occupied by Cozy Café; 914-732-3333.