P'ville Vape Shop's Pending Arrival Alarms Community
We are part of The Trust Project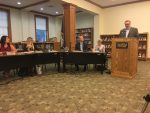 The expected opening of a downtown vape shop prompted the Pleasantville Board of Education to hold a special meeting Monday morning to highlight negative effects the business could have on the village and local children.
Since it was announced that The Glass Room would be opening a fourth location in the space formerly occupied by a Verizon store at 69 Wheeler Ave., concerned local officials and residents have been collaborating in hopes of strengthening regulations regarding the sale of e-cigarettes and vaping chemicals.
With more than 7,000 flavors of e-cigarettes on the market, including fruit loops, gummy bears and bubble gum, Pleasantville Superintendent of Schools Mary Fox-Alter said the school board has a responsibility to protect young people within the community.
"(This product) is marketed towards kids. In the location where the store is going to go in, you're feet away from classes at Holy Innocence, it's right down the street from Tutor Time, it's right next door to a children's learning center and two blocks away from the Girl Scouts center," Fox-Alter said. "No one here is saying that they don't have the legal right to be here; we're asking what's the responsible thing to do for our children in this community."
Rhoda Gennarelli, owner of the boutique Rhodadendron on Wheeler Avenue, is worried the controversy surrounding vape shops will reduce business and alter the family-friendly character of the busy street. Wheeler Avenue is home to several restaurants, delis, barbershops and a variety of retail shops along with the municipal building that serves as Village Hall and police headquarters.
"It's not something that people in Pleasantville want to see in the heart of Pleasantville and I totally understand that, but there's no avenue to stop or prohibit that because it's in the guidelines of the zone," said Chamber of Commerce President William Flooks.
At Monday evening's Pleasantville Village Board meeting, Mayor Peter Scherer said the village has reached out to its lawyers to see what future regulations could be enacted to prevent an explosion of similar stores and whether it can regulate where they operate.
The best way to get rid of a business is to not purchase anything in it, Village Trustee Colleen Griffin-Wagner said.
Federal law states that no one under 18 can legally purchase tobacco products; however, Congresswoman Nita Lowey (D-Harrison) said she's constantly fighting for tighter regulation of e-cigarettes, especially with use among teens rising tenfold in the past decade.
"With high levels of formaldehyde and other dangerous and cancer-causing chemicals, and marketing ploys aimed squarely at children, parents and members of the community must do all we can to combat youth smoking and prevent epidemic levels of e-cigarette use," Lowey stated in a letter to the school board.
But Raffaele Ferraioli, who owns the hair and nail salon La Barberia next door to where the shop will operate, said Pleasantville parents have long had a positive effect on their children and a vape shop won't change that. He also anticipates the new shop will increase foot traffic and help business on the street.
"They're not hiding anything or looking to do something illegal if they're opening a store across the street from a police station. Plus, no kids hang out here," Ferraioli said. "If this is not the right area or neighborhood for this business, like any other business, it will fail on its own. Why bring attention to it?"
Scherer said while the village board has no right to ban the sale of any legal object, he agrees this is an issue that deserves the community's focus.
"Our board completely agrees this is an appropriate focus for the community to be concerned about with stuff being presented in a very attractive way to people of all ages, but certainly this is a very critical issue," Scherer said.
Members of Pleasantville STRONG announced they plan to hold parent forums starting in August to educate community members with facts on e-cigarettes.
Pleasantville Building Inspector Robert Hughes said there's no set date for the shop to open. The owners recently obtained a permit for minor interior work. He said whenever they're ready to open, he'll complete a walk-through.
The Glass Room also has locations in Port Chester, New Rochelle and Stamford, Conn.