New Scarsdale Home Showcases Healthy and Energy Efficient Technology
We are part of The Trust Project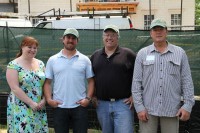 Healthy Home Builders hosted a "Sneak Peek – Open House" on June 25 at 8 Kent Road in Scarsdale, to educate people about new, healthier options in home building.
Healthy Home Builders demolished the original dilapidated home on the Scarsdale site and is constructing a new 7,000 square foot luxury home featuring state-of-the-art systems for clean, whole house indoor air and water purification and filtration, energy efficiency with geothermal and solar HVAC, and the use of building materials that are either non-toxic, or substantially less toxic than traditionally used construction products.
Peter Donovan, construction manager, told The White Plains Examiner the project was started as a response to a lagging economy. "Nothing was moving in Scarsdale," Donovan said. "We began to adjust our business and found that many renovation projects were about air quality issues caused by water damage and mold. In starting from scratch on this project we were able to collaborate with experts in the air conditioning and energy efficiency fields to build a healthier, cleaner and more energy efficient home."
Water conservation and purity, and indoor air quality are maintained with building and indoor environmental technology to reduce respiratory illness and exposure to household dust and chemical residues that are often present in carpeting, furniture, and other home products.
Donovan further explained that the energy-efficiency building materials he uses are way above building code standards for insulation, wall thickness and roof quality.
Passive solar energy will be used to heat water, and geothermal technology is planned for both heating and cooling. "Basically, these green technologies will heat and cool the 7,000 square foot house for the same cost it would take traditional energy solutions to heat and cool a 1,500 or 2,000 square foot house." he said.
Donovan acknowledged that some homebuyers are hesitant to pay extra for anything green. "I don't understand that approach," he said. "There is no comparison in the value. The ultimate cost savings are incredible. This is the way of the future."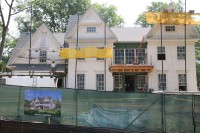 Shingle-style materials on the building exterior enhance a traditional approach to design, with a refined interior, and a thoughtful flow of spaces from one room to the next. The home will incorporate reclaimed hardwood flooring and vintage architectural elements.
For more information about Healthy Home Builders visit www.healthyhomebuilders.com