Mt. Pleasant Planners Close Pace Public Hearing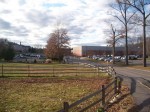 Pace University's proposed consolidation plan moved forward last week after the Mount Pleasant Planning Board voted unanimously to close the public hearing on the project's Final Environmental Impact Statement.
The board also instructed town staff to prepare a findings statement that it could approve at an upcoming meeting. It will accept written comments from the public on the FEIS until Oct. 15.
The plan to consolidate Pace University's Briarcliff and Pleasantville campuses is outlined in the project's draft environmental impact statement. Under the plan first unveiled nearly two years ago, the university would sell its 35-acre Briarcliff campus, which opened in 1977, and add residence halls and upgrade athletic facilities at the Pleasantville campus.
The only resident to speak during continuation of the public hearing on Oct. 4 supported the project. Pleasantville resident Cathy Cullen said the university has allowed local youngsters to use its swimming pools and other facilities.
"Pace has been a great neighbor," said Cullen adding that the Pace campuses have been open for the community to enjoy.
The FEIS addresses a host of issues raised by the planning board and the public during a previsiou public hearing session in June and includes a series of minor changes, said Andrew Tung a landscape architect for represnting Pace.
Ruth Roth, an attorney representing the university, said the planning board's decision to close the hearing and its intent to issue a findings statement "is an interim step." Roth said the project will also require site plan approval from the planning board and variances for insufficient setbacks and for the height of the buildings.
Pace is looking to build three new four-story residence halls for students. Also, Martin Hall would be renovated and three townhouse buildings on the northern end of the campus would be replaced with new residence halls of equal size. Under the plan, the number of student beds on the Pleasantville campus would increase from the current 690 to 1,400.
Among the upgrades to the sports facilities is a new multipurpose artificial turf field for football, soccer and lacrosse with a surrounding track for student and community use; a new field house at the south end of the field would include lockers, offices and concession space; a new grass softball field is planned for the southwest corner of the campus; and lighting and artificial turf would be installed at the existing baseball field.
Renovation of the Kessel Student Center and a new welcome center constructed off the new west entry to the campus are also part of the project. A theater and/or academic building would be constructed on a site west of the Kessel Student Center