Moviegoers Saddened By Pending Hawthorne Multiplex Closure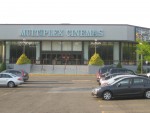 By Neal Rentz and Arthur Cusano
Loyal patrons of the All Westchester Saw Mill Multiplex Cinemas in Hawthorne will soon have to find another venue to see the latest movies.
The Mount Pleasant Planning Board unanimously granted site plan approval last Monday to allow property owner National Amusements to tear down the 10-screen theater and replace it with an Audi car dealership.
A 67,000-square-foot structure will be built and include vehicle service facilities. The property is located in a commercial retail zone.
No announcement has been made regarding a possible closing date by National Amusements, a Dedham, Mass.-based company that operates more than 1,500 screens across the United States and abroad.
Last weekend, customers at the multiplex, located at 151 Saw Mill River Rd., were saddened to hear that the end appears to be near for the venerable theater.
"I'd be very disappointed to see it close," said Ossining resident Rod Freeman. "It tends to be a more mature crowd that comes here, which is appealing."
Rita Lakin of Briarcliff said she had heard conflicting rumors about the theater's fate, but hoped it would stay open.
"They probably figure they don't have enough action," Lakin said. "Before they built the Greenburgh one, we couldn't even find parking here. We used to have to park across the street. Then they put the Greenburgh one in, and now they want to take this one away."
Other moviegoers agreed the theater would be missed.
"That would be very sad," said Serina Silverman of Somers. It's one of the few movie theaters where they have a nice big screen and a good selection of times."
Her husband, Mark, was also upset that the end appears near for the multiplex.
"We come every week, and I don't think the county needs another Audi dealer," he said.
Bronxville residents Jean Hagerty and Eileen Breen have been seeing movies at the venue since the theater's opening.
"I enjoy it very much and I bring my grandchildren here for parties," Breen said.
Both women said they appreciated the convenience of the large parking lot that has plenty of spaces even on the busiest of days. Parking is a problem in downtown Bronxville, they said.
"I didn't know anything about it," Hagerty said. "We don't need another car dealership. That's the last thing we need."
Supervisor Carl Fulgenzi said in August that the project would be beneficial to the town. He said as much as he would not like to see the theater close, he does support the redevelopment plan.
Messages left for National Amusements last week were not returned.