Knicks Star Lin 'Not Living in White Plains'
We are part of The Trust Project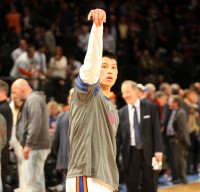 By Albert Coqueran
Jeremy Lin, who has rocketed to stardom while leading the New York Knicks on a seven-game winning streak, denied rumors that he is residing in the Trump Tower in White Plains.
"I am not living in White Plains," Lin told The White Plains Examiner, as he walked from the post-game press conference, after he registered his second straight double-double with 10 points and 13 assists in the Knicks' 100-85 win against the Sacramento Kings on Wednesday.
A story reported in the New York Post on Wednesday, February 15, which has been pick-up by media outlets across the country including the NY Daily News, Los Angeles Times and CBS News, noted that Lin had moved into a posh 20th floor apartment in the 35-story Trump Tower on Main Street in White Plains.
It was also reported that Lin was subletting the Trump Tower apartment from his friend David Lee, who is a former NY Knick. But Lin emphatically denied the rumors. "I am not living in White Plains. I do not know who has been writing that," emphatically replied Lin.
However, one aspect of "Lin-sanity" that is not a rumor is that Lin has excited Knicks fans at Madison Square Garden more then they have been in a long time. " Look at it here the excitement. Personally, I have not seen it like this since 1970," stated Knicks faithful Steve Schirripa (Bobby Bacala) of Sopranos fame.
Schirripa was sitting courtside next to Whoopi Goldberg of "The View" and Edie Falco, also of Sopranos fame, among many celebrities that attended the Knicks game against the Kings.
Former Vice President Al Gore was in attendance at the Garden on Wednesday and White House Press Secretary Jay Carney told reporters on Air Force One that Lin had even captured the attention of President Barack Obama.
"The President is an avid Sports fan and particularly and avid basketball fan and we were speaking about Jeremy Lin on Marine One," Carney said. "It is just a great story and the President was saying as much this morning."
"I mean wow the President. Nothing better then that. [I am] very honored and very humbled," responded Lin, regarding President Obama's interest in him.
Lin is averaging 24.5 points per game during the Knicks seven-game winning streak. The Harvard University graduate also stunned fans in Toronto, Canada, when he sank a three-point shot with 0.5 seconds left in the game to beat the Toronto Raptors.
However, if Knicks fans in White Plains are expecting to see the new Knicks phenomenon sitting in the lobby of the Trump Tower or making his way down Main Street in White Plains; Well not quite yet, according to the new Knicks superstar Lin, who has caused all this "Lin-sanity."