The Accidental Writer: Interview with J.W. Zulaf

Interview with the talented and slightly dark but in a good way J.W. Zulauf
I had the good fortune to interview the talented and busy author, J.W. Zulauf.  His first book, The Underground Princess, is an illustrated lower grade chapter book and was published on December 1st by Evolved Publishing. Like many of us, Zulauf has spent most of his life figuring out what he wants to be when he grows up. Lucky for us, he's chosen to be an author!
Have you always wanted to be a writer?
I've constantly changed the direction of my life like some sort of broken compass. My career aspirations changed with the seasons. Fall: actor (I get nervous in front of a lot of people and trip over my words when on the spot). Spring: artist (I can't even draw). One year I think I had some twenty jobs ranging from telesales, to retail, to fast food. I've even started my own construction company with my brother… and let me tell you that you don't want me to build your house! The one thing that seemed to always return was writing.
When I was six I loved Goosebumps and Hardy Boys, which fueled my wild imagination. In my early twenties The Stand captivated me even though I had to look up every other word in the dictionary. But when I was twenty-four I met a teacher (who I still speak to today) who changed everything for me.. I have a family to support now, so it's no longer a hobby and something I am forced to make work, which is alright, because I just so happen to love doing it.
 What was your favorite fairytale growing up?
I suppose many people would name off Disney stories and the sort, which is fine. I personally preferred Aladdin myself, but the fairytale that stands out to me was from a videogame: The Legend of Zelda. I absolutely loved the world and characters. I still do today, and I am always looking forward to the next installment. And almost equally so (but for different reasons), Super Mario.
In fact, both of these stories are at the very core of my inspiration behind The Underground Princess. There are some dark concepts in Zelda (and some in Mario at times), but it's done in a respectful, friendly way that makes it fun instead of frightening. I want to create a fairytale that someone would love as much as I loved The Legend of Zelda.
What age group is The Underground Princess written for and what are the unique challenges you have to overcome to write for that group?
On paper, I am told that the age range for my story is set by an industry standard of ages 6-12. Someone told me that this story is a children's book for all ages, which I take as a huge complement. Now, I do believe there is a line that needs to be drawn with the younger crowd and what's being presented to them. I suggest that parents always screen what they allow their children's minds to absorb, but I believe this story should be read by those six and beyond versus six to twelve.
This story is designed as a transitional read, which means it will help younger readers transition from early reading materials to chapter books. This is part of the reason why I've included a full illustration in each chapter. I tried to tie in illustrations from a children's book with impactful chapters of a young adult book. I've also included a new word in each chapter so that it's not too easy for any one reader. My goal is to help create better readers after finishing this book.
The artwork for the book is stunning. Tell me a little about the collaborative process with Luke Spooner, the illustrator.
I first reached out to Luke Spooner asking if he would be interested in doing a fairytale. Without hesitation, he accepted the idea, so I sent him the first draft. He illustrated the character concepts and slowly we tossed pieces back and forth using each other to make the perfect characters. The characters evolved each time he sent new art. This way the characters ended up being both our creations.
One of the early concerns was to make sure it wasn't too scary, but Luke managed to create a balance that allows the illustrations to guide people's imaginations.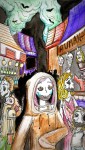 One reviewer wrote, "[t]he book features characters in various states of decay. I felt that it was not only appropriate to include images of the characters but advantageous so that children's imaginations would not lead them to something more frightening than what's depicted in the story."
The chapter book takes a slightly dark approach to fairytales. Is this just part of your nature?
Let me first just say that I don't just sit around in the dark doing and thinking of creepy things! But, yeah, this book does take a slightly darker approach to fairytales, and it's something that I have been tossing around in my head lately. All of the pieces I've gotten published (even the literary and poetry pieces) have dark undertones. For a moment, this concerned me, but you know… It's ok. There are dark things in the world.
The Underground Princess may be dark in appearance, but the darkness is more of a style where the story is about love, honor, respect, courage, self-esteem and so much more. Hopefully people step into the world and come out happy and satisfied. I want to inspire creativity and the desire to read in youth. If I can change one person's life with one of my stories for the better, then I have done my job. So, that's the core of my nature, which isn't very dark at all when you think about it.
You can find J.W. at his website – http://www.jwzulauf.com/