Housing, Assisted Living Proposed for Mt. Pleasant's Legionaries Property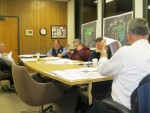 A White Plains-based developer is proposing a major development for a portion of the property owned by the Legion of Christ in Mount Pleasant that would include 116 single-family homes and an assisted living facility.
The developer, Baker Residential, is also proposing to donate 16.5 acres of the 165-acre property on Columbus Avenue to the town, which would use it for recreational facilities.
The site is vacant wooded land that is located in a General Office Building zone (OB-1) at 582 and 590 Columbus Ave.
The residences would be built in clustered lots, according to the applicant's submission. They would be divided between 48 half-acre lots and 68 quarter-acre lots with access from East Stevens Avenue and West Lake Drive. Connections are available to public sewer and water.
The single-family residences on quarter-acre lots would be between 2,500 and 3,000 square feet, would have three or four bedrooms and a two-car garage. The single-family duplex residences would be between 2,800 and 3,000 square feet with three bedrooms and a two-car garage.
The houses on the half-acre lots would be detached single-family houses of between 3,000 to 3,500 square feet with four bedrooms and a two-car garage.
The developer is also seeking to create an assisted living facility on a portion of the land to the west of the homes. In addition to the 16.5 acres that would be given to the town, 80 acres would remain open space.
Supervisor Carl Fulgenzi said the assisted living facility would include 72 townhouse units located in six buildings.
Councilman Denis McCarthy said the assisted living facility could be a positive for the town because it could keep seniors in Mount Pleasant.
Baker Residential is estimating that the homes on the quarter-acre lots would sell for $699,990, with those on the half-acre parcels going for $799,990.
The developer is projecting revenue of $1.73 million in annual property taxes to the Mount Pleasant School District and $118,950 to the town's budget.
Fulgenzi said the developer would need to submit the proposal to the planning board. The supervisor said he recently spoke with planning board Chairman Michael McLaughlin about the proposal.
"He likes the whole concept," Fulgenzi said.
Representatives of the developer will be invited to a future town board work session, he said. The town board would need to rezone the property to allow for the development of the residential units.