Holocaust Survivor and Liberator Bring a Lesson of History to Today's Moment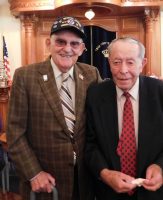 It was a special day at the Mount Kisco Hebrew Congregation on Friday as a Holocaust survivor met the World War II veteran who liberated him from the Gunskirchen concentration camp in Austria nearly 72 years ago.
Following the emotional reunion where former prisoner Nandor Katz and Army veteran Alan Moskin hugged and shed tears, both men, 91, sat side-by-side recounting their shared history, describing the harrowing journey that led them to each other on May 4, 1945.
"There was death as far as you could see, bodies and skeletal like bodies all over the place, and everywhere you looked was the stench of the dead and the dying. What we saw was so horrific that it defies description," Moskin said. "Anybody that survived the hell and the horror of that camp is a miracle and he (Katz) survived and is an example of a miracle to me."
Katz was 18-years-old when the Germans invaded Hungary where he was deported to the Mauthausen death camp in Austria as his family perished in Auschwitz. In 1945, Katz, along with thousands of starved and sick prisoners, marched on foot in the cold to Gunskirchen Lager, a slave labor camp with no sanitation, running water or food.
As the war was coming to an end, Adolf Hitler had ordered the execution of all the prisoners, but the guards failed to comply in fear that American soldiers were nearby. The SS guards soon deserted the camp leaving the prisoners to die.
While in combat through France, Germany and Austria, Moskin's division had liberated a nearby prisoner of war camp where they first learned that Gunskirchen was housing thousands of Jewish prisoners.
"We didn't know anything about a camp for Jews, we thought it was a rumor until we came across this nauseating smell that any liberator will tell you they can't ever forget," Moskin said.
By the time the American 71st infantry arrived there were piles of decomposing bodies throughout the camp. The 15,000 who were still alive were emaciated, sick and starved.
"The most horrific site I've ever seen in my entire life, we weren't prepared for something like this," Moskin said. " Those poor souls were alive and so emaciated, they didn't look like normal human beings. Their arms and legs looked like broomsticks. Their cheeks were hollowed out, their eyes sunken back into their sockets. They had soars all over their body wearing filthy rags."
Moskin added that as soldiers began feeding the prisoners, many began choking and ultimately died because their bodies couldn't handle food after months of starvation.
"We were trying to help them, we didn't know," Moskin said. "What I witnessed there left a mark on me, a mark on my heart and soul. How did this civilized world let something like this happen?"
For the past 22 years, Moskin has traveled the country sharing his story and making sure people never forget the Holocaust happened. While Moskin has made several public appearances, he said he continues to visit high schools encouraging young people to share his story of horror and dismay.
"I try to tell the kids the truth so this never happens again," he said. "We have a lot of hate going on today in the world and it scares me to think about what's going on. This was a crime against humanity and it can happen again if you don't keep your eyes open."
Following their testimonies, the nearly 50 people in attendance wiped away their tears as Mount Kisco Mayor Michael Cindrich and Westchester County Legislator Francis Corcoran presented both men with several proclamations.
Cindrich, who proclaimed Aug. 12 as Nandor Katz Day throughout the village, commended both men for their courage, stating that it took the country too long to come to its senses seven decades ago.
Corcoran added that both Katz and Moskin represent what it means to fight for the human spirit and the good of humanity.
"It's very hard to imagine what they've gone through and it's very difficult to sit through and listen to the atrocities they lived through and witnessed," Corcoran said. "There's a reason you're here and I thank God you're both here to tell your stories."
Westchester Jewish Community Services, or WJCS, organized the event. Halina Rosenkranz, the organization's Holocaust counselor, knows Moskin, and Katz is in the WJCS Holocaust Survivors' Support Group. WJCS is a non-profit, non-sectarian human services agency, serving 20,000 people annually at 70 clinic, school, community and home-based locations throughout Westchester County. For more information on WJCS visit www.wjcs.com.