Georgene Mongarella Wins the Coveted Rotary Paul Harris Award
We are part of The Trust Project
By Harriet Lerner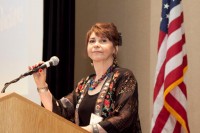 This month, Georgene Mongarella of Scarsdale, a Rotarian for 17 years and a p president, received its highest award for service from the White Plains Rotary. Paul Harris was a lawyer who in 1905 organized the first Rotary Club "for fellowship and friendship." His initial goal was to create an association of professional and business people who could meet and share common interests on a regular basis. Paul served as president of the Chicago Rotary Club in 1907; the club initiated its first public service project, the construction of public plumbing in Chicago. Hence, Rotary became the world's first service club, which rapidly grew to 200,000 members in 75 countries. Today, Rotary International has 34,000 clubs with a membership of 1.2 million in over 160 countries worldwide. The primary focus is on local and international projects. The motto of Rotary is "Service Above Self."
Many people came to know Georgene Mongarella when she took up the reins of the Gift of Life, a Rotary-recognized charity, as Chairman of the Board. Under her leadership, she doubled both the number of attendees at the Annual Fundraiser as well as the money raised for this charity, which arranges to bring heart-damaged children to this country, host them with their Moms, and then have a procedure performed on them which repairs their hearts, thus the "Gift of Life" which they would not have without the operation. They return to their countries as good as new. Various Rotary clubs that host the children and their mothers make this miracle come true along with the surgeons that perform the cardiac procedure (from Montefiore and Westchester Medical Center).
In Paul Harris's words "Of all the Earth's sad and lonesome creatures, the most helpless is he who does nothing for his fellowman." As a matter of fact, during the recent Boston Marathon tragedy, special FBI agent Rick DeLauria was describing the day's events. He had a Paul Harris pin in his lapel. We all know what this stands for – extraordinary participation in the lives of others, not only our own. Only then can we take an improved voyage on the path to living, improve what we are all about and be true Rotarians.
Because of Georgene's extraordinary service, (there was never a time that she was not with the child, at the airport, at their hosting family, or at the hospital) she was awarded the Paul Harris Award, the highest Rotary can give; Rotarians Bill Fishman Esq. and Carl Winterrose also received service awards, Rotarian Rich Scanlan Esq. was recognized with a Paul Harris medallion for his profound understanding of the times we live in; he saw to it that women were accepted into Rotary. Without that, we could not have the extreme talent that Georgene Mongarella brings to her leadership of service organizations.