Film and TV Industry Spent $30M in Westchester County
We are part of The Trust Project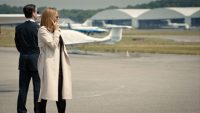 A report out last week indicates that Westchester County received more than $30 million in revenue from the film and TV industry in 2016, and that spending from that industry in the county was up 67% since 2014.
"Westchester's film and TV industry is booming," said County Executive Rob Astorino in a press statement.
Later, in an interview with The White Plains Examiner, Astorino indicated that through the Office of Tourism and Film, under the direction of Natasha Caputo, a concerted proactive effort had been made to attract producers to the area.
"We have a tremendous advantage over many parts of the world," Astorino said. "Westchester County has beaches, harbors, river fronts, lakes, cityscapes, small towns and villages, suburban and urban neighborhoods, quaint train stations, an airport, farms and horse farms, wineries, college campuses" – the list goes on. "Plus, many television executives live in the county, and they know what's here."
The types of productions shot in Westchester include movies, broadcast and digital TV shows and series, as well as commercials.
The revenue the county received in 2016 came from 532 on-location production days, which are the number of days a team was set up and working – a full 12-hour film day.
Not only do the studios bring their own production teams, they also rely heavily on Westchester County resources including location scouts, production managers, crew and post-production specialists.
Post-production facilities and sound stages in Peekskill and Mt. Vernon are popular with the studios, Caputo said.
The county's economic impact estimates are based on a formula used by the Association of Film Commissioners International (AFCI) and include permit revenues, as well as revenue generated by retail establishments, restaurants, hotels, equipment rentals, and other film industry vendors.
Caputo, noted that Westchester's appeal lies not only in its world-class locations, but also in its accessibility, affordability, and the hands-on support offered by the county's Tourism & Film office.
"Our office has a deep knowledge of production needs and how to help location managers navigate the process of filming in Westchester," said Caputo. "Westchester offers unique settings all within a short distance of New York City and is accessible for productions of all sizes through our airport, major highways, and a reliable rail and bus system."
Astorino noted that Westchester makes the perfect complement and backdrop for film productions outside New York City, where something more than a metropolitan feel is required.
Already, the Westchester County Airport has been turned into an international airport and the top of Kensico Dam has set the scene for a hostage standoff.
The area has hosted some major productions including ongoing shooting of Tom Hanks/Meryl Streep/ Steven Spielberg production of "The Papers" (Amblin Entertainment), which included a film day at the Westchester County offices last week. Other films include "Isn't It Romantic" (New Line) filming in Mt. Vernon and "The Divorce" is expected to start filming later this month in Yonkers.
The series "Billions" has been filmed in the county as well as "The Girl On The Train" (DreamWorks Pictures/Universal), "The Affair" (Showtime), "Divorce" (HBO), "Homeland" (Showtime), "Elementary" (CBS), "The Americans" (FX), "Mr. Robot" (USA Network), "Madam Secretary" (CBS), "Blind Spot" (NBC), "The Blacklist" (NBC).
Further revenue statistics reveal a 130% increase, from $526,454 in 2014 to $1,209,804 in 2016, in permit revenues collected by the county and local municipalities. The county received $500,000 in permit fee revenue in 2016 for productions held on county-owned property, while municipalities collected over $700,000 in 2016.
Jill Iannetta, director of special projects for the City of White Plains, which has benefitted from major film shoots within the city, said, "There are real economic benefits from working with the film industry. Location fees help when budgets are tight for local businesses, schools, and residents. What's more, local residents seem to enjoy seeing productions. Filming in White Plains has been overwhelmingly positive for us."
Westchester's filmography is packed with big budget films, independent films, and critically acclaimed television and cable series
"The bottom line is that Westchester is a valuable and viable option for the film industry," said Astorino. "We're ready and open for business. Our office looks forward to helping the industry discover what we already know: there's no place quite like Westchester."
Caputo suggests that anyone interested in finding out about the county's independent film industry as well as the major productions active in the county should visit the Westchester County Film Facebook page.