Examiner Green Machine Motors to Championship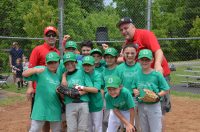 The Examiner green team scored a resounding victory in the team's championship game on Saturday at Leonard Park, defeating Edward Jones 9-0 in a rain soaked battle of Mount Kisco Little League titans.
Saturday afternoon's win capped off a perfect season for Examiner green, completing an undefeated 14-0 campaign for the second and third-grade Triple-A Minor League standouts.
"It was a lot of fun watching this group of kids come together as a team," said Head Coach Scott Spolansky. "They all knew the special season we were going through but never took their eye off every single game they played all the way through the championship. It has been a ton of fun coaching this group of kids."
Assistant Coach Ken Diorio, for his part, noted how the team "gelled" despite the fact that most of the teammates didn't know each other from school.
"Up and down the lineup everyone contributed," Diorio stated. "We didn't rely on one or two players to carry the team. Every game during the run had a different hero."
Later Saturday afternoon, the older "Major League" Little Leaguers played a championship game, with the Elks beating Robison.
"Congratulations to Elks and Examiner for a fantastic season and winning the coveted title of Mount Kisco Baseball Champs!!!" the league exclaimed on its website. "What a great day of baseball with all teams playing hard, working together and enjoying the day. Robison and Edward Jones played great and had a fantastic season, hats off to them. Thank you coaches, parents and players for a great season."