Democratic Lawmakers Send Gun Show Ban Bill to Full Board
By Anna Young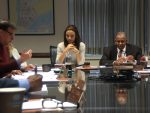 Citing a national rise in gun violence over the years, outraged Democrats on the Board of Legislators on Tuesday moved a bill to ban a gun show scheduled at the County Center for later this month.
The Northeast Gun Show would take place on Jan. 21-22 at the White Plains venue but the Legislation, Labor/ Parks/Planning/Housing and Public Safety & Social Services committees are sending a measure to the full board for its next meeting this Monday, Jan. 9 that would prohibit gun shows at all county-owned property, including the County Center.
The lawmakers argued that hosting the show would promote a culture of violence and the glorification of firearms on taxpayer-financed property.
"I, as one legislator, recognize the right to the Second Amendment," said Board Chairman Michael Kaplowitz (D-Somers). "I don't read in there the right to have a gun show at the County Center."
"The main purpose of guns is to kill living things. All it takes is one misguided mother who buys a bunch of assault rifles to bond with her son to essentially dismember 20 first-graders and kill six of their teachers," said Legislator Maryjane Shimsky (D-Hastings-on-Hudson), referring to the December 2012 mass shooting at Sandy Hook Elementary School in Newtown, Conn.
The county discontinued gun shows from 1999 to 2010. County Executive Rob Astorino lifted the ban after taking office and one was held at the County Center in 2012. However, after the Sandy Hook tragedy, a 2013 show was canceled and a handshake agreement was made among county officials that the center would no longer host gun shows.
Democratic legislators stressed that the ban does not extend to private venues.
"This act does not stop any of the sponsors of this show, which include the locally affiliated NRA chapter, to host this event down the street on private property," Legislator Ken Jenkins (D-Yonkers) said. "It is not a business the county should be getting into."
A Moveon petition containing about 4,800 signatures has been circulated, and with organizations such as the Westchester Children's Association supporting the ban, Shimksy said protecting county residents is top priority.
While the conversation among Democrats focused mainly on personal views and the impact of illegal firearms, Board of Legislators Vice Chairman Jim Maisano (R-New Rochelle) said he feels strongly that without evidence of any wrongdoing resulting from the County Center having hosted gun shows, it's wrong to deny Westchester residents the right to attend.
County Commissioner of Public Safety George Longworth said there has been no record of crimes committed with firearms obtained at the County Center gun show in the past. Furthermore, the implementation of the SAFE Act in 2013, which requires universal background checks on gun purchases, makes it highly unlikely that a legally purchased firearm will be sold to someone who isn't authorized to buy one, he said.
"This (show) is something we've done for decades without a problem," Maisano said. "In your minds you don't think there should be a gun show, but you have no evidence to back this up that this law is going to do one thing to impact gun violence in Westchester County."
Two weeks ago Republicans indicated they would put forth a counterproposal requiring the gun show operator abide by the state attorney general's Model New York Gun Show Procedures. The procedures go beyond the SAFE Act such as tagging guns brought to the show by private dealers and includes clearly posted notifications reminding dealers to conduct background checks. It would also limit the number of access points into and out of the show to make background checks easier to monitor, have police patrols on hand to prevent illegal gun sales outside and have law enforcement at the show watch for illegal sales.
Republican Minority Leader John Testa (R-Peekskill) said personal views are swaying the board.
"I think we need to keep in mind that we talk about discrimination and equal protection, and all these things are conveniently being sent to the side because of personal views," Testa said. "There's been a lot of talk about taxpayer funding, but a lot of the people going to this show who own guns and purchase guns pay taxes also and want this show."
Monday's full Board of Legislators meeting is scheduled to take place at the county building in White Plains at 7 p.m.