Yuka's Latin Fusion, Croton
We are part of The Trust Project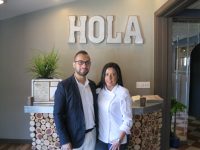 Cortlandt resident Claudia Villeda and Peekskill resident Mike Guerra have given local residents a new place to sample Latin cuisine.
The co-owners opened Yuka's Latin Fusion in Croton. Villeda said last week the restaurant was named after yucca, which is a root vegetable that tastes like a potato. The restaurant was named by Guerra. "We use it (yucca) all over Latin America," Guerra said. "We are a fusion of all of those countries."
The eatery was opened about 10 weeks ago on Albany Post Road (Route 9A). While Yuka's is the first business Guerra has owned, Villeda has owned a series of restaurants. However, Guerra has been in the industry in many capacities for about 13 years. "It's in my blood," he said.
Villeda said she had a practical reason for owning restaurants. "My dad used to say if you want to make money? You want to succeed? You've got to be involved in the food business. Everybody eats every day," she recalled being told.
Yuka's offers both tapas small plates and full meals. Among the new restaurant's specialties is shirk steak which is a popular staple in Latin restaurants, Villeda explained. Paella and tacos, chicken and beef stuffed empanadas and stuffed avocados are also among the eatery's popular dishes, Guerra said. "I think our most popular items are the tacos," he said.
Guerra said business has been good so far for the new establishment. "Everybody in the area has had a pretty good response to this restaurant. We're pretty happy so far," he said.
Villeda said her customers have generally come from Croton, Cortlandt, Peekskill and Mount Kisco, adding many patrons have also come from Ossining and White Plains.
Yuka's is located in the site of a former restaurant. The renovations took the new owners about five months to complete,Villeda said. Guerra said the co-owners wanted "a little rustic, modern look, something different in the area."
Guerra said he believes success for his restaurant would be "to be here for a long, long time" and eventually expand to other locations and eventually become a chain.
Yuka's Latin Fusion is located at 2011 Albany Post Rd. in Croton. For more information, call 914-862-4449, visit YukasLatinFusion.com or send an e-mail to YukasLatinFusion@gmail.com. The restaurant also has a Facebook page.