Business Profile: Marshall Alarm Systems, Yorktown Heights
We are part of The Trust Project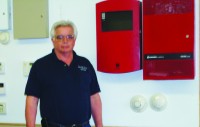 Most people prefer an alarm company that they can trust to keep their establishment safe and secure. Marshall Alarm Systems is located in Yorktown, 2014 Crompond Rd. (Roma Bldg) Suite 1. It has been established since 1976 and has been proven to be the neighborhood company that people can trust.
Owner Marshall Marinace is extremely proud of what his business has become over the years. Marshall Alarm Systems has is trusted by local residents, businesses, municipal governments and several school districts in northern Westchester.
Last month, the business moved from its Pleasantville location to a larger storefront in downtown Yorktown within the Roma Building.
"We have grown so much and we needed a larger headquarters and it enabled us to increase our size about 750 square feet more and it was better for us to be in the larger space," said Marinace. Since Marshall Alarm Systems has moved the new location is still getting a lot of exposure being in the presence of town.
Marshall Alarm Systems offers all security services for residential and commercial central station alarm systems including video surveillance systems and commercial fire alarm systems.
"We represent all leading manufacturers in the industry and we are an independent dealer," said Marinace. "That's what makes the alarm business succeed to the best that they can be."
The company represents Ademco, Edwards Mirtone, Napco, FireLite, Silent Knight, System Sensor, Northern Computers, and Keri Access Control.
Pricing for Marshall Alarm Systems' basic protection starts at $399 and goes up from based on the services that are required.
According to Marinace, the residential security system integrated with video is the number one selling alarm system.
"We offer services where you can have cameras in your location and you can remotely view them on any PC, iPhone or smart phone," said Marinace. "Imagine just being able to look up if anyone is around your house or to just check up on your establishment by just looking at your phone or downloading a certain application for your iPhones." Technology has allowed security systems and alarms to become more over the past few years.
Marshall Alarm Systems guarantees full-service protection with any of its plans. When you purchase an alarm system you subscribe to your monitoring services attached to the central station monitoring services.
"The central station monitors the systems and if need be we dispatch the police, fire department or emergency personnel," explained Marinace. "Marshall Alarm Systems will always make sure that everything is protected and the alarms are doing their job to keep you safe while they are on duty."
Marinace also said that most people end up buying alarm systems to have a piece of mind that they, and their establishment, are always safe and being taken care of.
Marshall Alarm Systems is available 24/7, but its office hours are Monday – Friday 8 a.m. to 6 p.m. It is located at 2014 Crompond Rd. (Roma Bldg) Suite 1 in Yorktown. Call the operations manager Lisa Schmid at 914-962-4699 or visit MarshallAlarmSystems.com.
By Breanne Post