Business Profile: Lifestyles & Interiors By Lisa, Croton
We are part of The Trust Project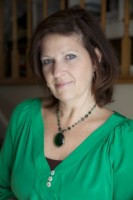 Lifelong Cortlandt resident Lisa McTernan said last week, "I felt from a very young age I've always thought like a designer."
McTernan recalled, "As a young girl I noticed how someone's house was painted." McTernan said for fun as a young girl she would build and design towns in a sandbox. When she was in eighth grade she designed her first room, which was her bedroom.
McTernan has been an interior designer for about 25 years and opened Lifestyles & Interiors By Lisa in Croton seven years ago. The store has been at its Croton Pont Avenue (overlooking the Croton-Harmon Metro-North station) for five years after moving from its original location on North Riverside Avenue.
Lifestyles & Interiors is more than a retail store, McTernan said. "Since I worked as a designer for all those years, most of what we do are projects," she said. "It might be additions; it might be kitchens or bathrooms for our clients. Or it might be window treatments or upholstery."
McTernan recalled about a decade ago that it was difficult to find home accessories for her clients in the local area. "That's when I decided to try to have my shop where we would pull in accessories and furniture," she said. Lifestyles & Interiors is "a combination of building, designing and a retail store," she said, noting she formerly worked out of her home.
The store offers a wide variety of items for the home including lighting, mirrors, pillows, and "any decorative element that completes the home and adds the finishing touch and the character to it," McTernan said. "You make that home look like your own with the accessories."
McTernan teaches interior design at SUNY Purchase in a continuing education program. She and her team from the store designed a guest room for a "dream house' that is on display t the Ritz Carlton hotel in White Plains through Oct. 19.
Though she had done a few commercial projects, such as working on the cafeteria at Hudson Valley Hospital, McTernan mainly works with homeowners. "I pride myself in analyzing what the client's looking for because I do  know it's going to be their house and once I'm out of the picture I want it to represent them," she said. "And so the greatest achievement I feel is when I'm finished and they have company and they say oh, the house so reflecs them, meaning the homeowner."
Lifestyles & Interiors by Lisa is located at 4 Croton Point Ave. in Croton. For more information call 914-862-4163 or visit http://www.lifestylesandinteriors.com.