Anton Restaurant & Bar, Croton
We are part of The Trust Project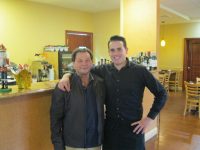 Briarcliff residents Belarmino and Virginia Anton opened Anton Restaurant and Bar in Croton in 2010 and not long after it opened its doors, the new business faced a crisis.
Belarmino Anton recalled last week that shortly after his eatery was getting established it went out of business temporarily as the result of a fire following an explosion in one of the outdoor transformers.  "It took us two years to rebuild," he said. "It was a long time."
Anton said word-of-mouth has been bringing back his customers because he does not advertise. Quality encourages his customers to return to his eatery. "They only need to come once," he said. "They keep coming back."
The restaurant serves American, Spanish and Peruvian dishes. The restaurant, which is closed on Mondays, offers breakfast, lunch and dinner.
"At the beginning it was easier for me" to serve breakfast, he said. "I know I serve a good breakfast."  When the restaurant opened six years ago it did not offer dinner because Anton said he was not ready to do so at the time.
Anton, who does most of the cooking at his restaurant, said breakfast specialties include eggs served in any style, including omelets and waffles. Lunch specialties include arugula salad with avocado, cranberries and grilled salmon, spinach salad, and fish tacos. Some of the dinner specialties include Spanish tortilla, garlic shrimp, and chicken topped with spinach, Manchego and parmesan cheeses, and tomato. "One of the signature dishes from Peru is the Lomo Saltado," which is Angus New York strip steak flambéed with red wine vinegar and soy sauce, served with rice and French fries, Anton explained.
"I supervise everything to make sure that everything comes out the way it's supposed to," Anton said.
Dinner is offered on Thursday, Friday and Saturday only. The establishment's full bar offers cocktails, mojitos, homemade sangria and Spanish wines. Anton said he will be seeking to expand the variety of Spanish wines offered in the future.
Anton and his wife previously owned Patio restaurant in Briarcliff for 18 years and the family sold it to their employees before opening their Croton eatery six years later.
His restaurant's patrons come from all over the area and the establishment has received many positive reviews on Trip Advisor and Google, Anton said.
Anton said among the reasons for the success of his business includes consistency and an assurance the food is prepared in the manner requested by his customers. Anton added he is open to customer suggestions.
Anton Restaurant & Bar is located 337 S. Riverside Ave. in Croton. For more information, call 914-862-4811 or send an e-mail to antonrestaurant@optimum.net. The restaurant also has a Facebook page.