Business of the Week: The Stone Manor 101, Hawthorne
There's a brand-new steakhouse on the culinary scene combining the basics of operating a well-run restaurant with a Mediterranean flair.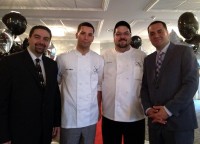 The Stone Manor 101, site of the former Tino's in Hawthorne, is much more than a restaurant. The 14,000-square-foot space includes a catering hall that is suited for weddings, bar and bat mitzvahs, sweet 16s and large gatherings for almost any occasion.
Co-owners Michael Casarella and Tommy Stratis are no strangers to the food and beverage industry. The pair also own and manage Goldfish, a seafood restaurant in Ossining, and Casa Rina, an Italian eatery in Thornwood.
Although the restaurant, located on Old Saw Mill River Road in Hawthorne, opened July 1, the catering hall has been in operation for four months.
Their newest venture is perhaps their most ambitious to date, as it combines a love of cooking and food and a desire to provide Westchester foodies with a high-quality venue to celebrate their most cherished events.
"We really liked working on this project," said Stratis, a Yonkers native who has been in the restaurant industry since the age of 17. "We believe we have a good market here in Westchester simply because there's not much local competition out there."
Stratis said they came up with the "101" concept because they wanted to "keep everything simple and provide customers with fresh ingredients," all of which are selected daily from the Hunts Point meat and produce markets in the Bronx.
The banquet facility, which seats up to 175 people, includes a cocktail room, dining room and a separate ballroom. Stratis said they are working toward unveiling two bridal suites in the fall.
Diners will surely be taken aback by the spaciousness of the upstairs eatery.
"We wanted people to walk in and see the entire restaurant, including the kitchen area," Stratis said.
The upper floor of the 200-year-old building, which was once an orchard farmhouse, is bright and spacious, with wood floors and two operable stone fireplaces, one with a big timber mantle, the other with small stones forming a waterfall along the chimney. Then there is an open kitchen, which is efficiently operated under the watchful eyes of chefs Scott Karns and William Lawrence. Up to 100 patrons can be served in the restaurant, with the stylish bar area serving up to 20.
It's no surprise that the partners' Greek and Italian upbringings have influenced the menu, as Stratis and Casarella provide quality product at reasonable prices.
"We wanted to give our customers service, ambience and quality, but not at a steakhouse price," Stratis said.
A soon-to-be-unveiled pre-fixe menu, available from Sunday to Wednesday, is in the works. They will also introduce a menu with more seasonal ingredients as the year progresses.
For now, the menu offers competitively priced meals, with several steak choices including the 22-ounce porterhouse for one at $35.01, the 45-ounce porterhouse for two at $75.01, the 14-ounce New York strip steak at $32.01; and the 22-ounce rib eye for $35.01.
Other entrees on the current menu include a cod dish with artichoke Parmesan sauce and mint pea pesto in a sun-dried tomato drizzle; a toasted angel hair pasta dish with chicken, shrimp, onions and calamari; and a grilled swordfish dish containing citrus segments, cauliflower puree, fennel prawns and croutons.
The Stone Manor 101 also serves up a variety of appetizers, salads, chilled seafood, vegetarian meals and sandwiches.
Stratis and Casarella are hands-on owners, ready and willing to pitch in whenever they are needed and always eager to support their workers, including general manager Stefan Sarris and his wait staff.
"This is definitely something we are very excited about," Stratis said.
The Stone Manor 101 is located at 101 Old Saw Mill River Rd., across from the Hawthorne multiplex. To make reservations or learn more about the catering facilities, call 914-703-4112 or visit www.thestonemanor101.com.