Business of the Week: Green Growler, Croton-on-Hudson
We are part of The Trust Project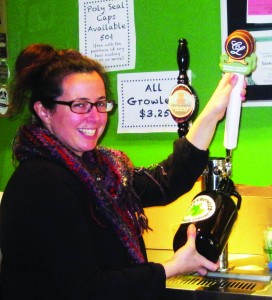 A good beer does not come in a six-pack of cans. It cannot be picked up at the gas station and it is too tasty to chug down.
A good beer entices the senses. It has real color that catches the eye. One can smell the hops, barley or wheat as it is being poured from the tap. Then when the drink hits the mouth the taste buds are able to pick up on the subtle little nuances that let you know that this beer for real. That is a good beer.
At the Green Growler in Croton-on-Hudson they know a good brew. Beer baroness Seana O'Callaghan opened the Green Growler last May to help fill the need of the growing craft beer community.
"I really thought it was going to be all about craft beer and artesian snacks," O'Callaghan said about her store, which is located at 368 South Riverside Avenue in Croton. "We were going to bring people together. It was going to be an art center focused around beer."
Then O'Callaghan realized the perfect complementary hobby for those people who love a good beer, was home brewing. "It really encourages people to be part of this craft beer movement," O'Callaghan said.
So she started to carry the equipment and ingredients needed for the home brewers and she started to get a following from beyond the local borders. Starter equipment sets start at $70 and there are pre-bundled packages of ingredients to guide you to the perfect stout, ale or lager.
People who are looking for specific products can email O'Callaghan at info@thegreengrowler.com or call the store at 914-862-0961.
"We have people who come up from Manhattan every couple of weeks to pick up supplies," O'Callaghan said. "Then there are people who come from Putnam and Rockland and even Connecticut. It has been really well received. People are really glad to be doing it."
For beginners, the Green Growler offers classes on brewing basics. "They come here, learn how to do it and then brew it at home," said O'Callaghan.
Fellow Croton resident, Ed Godeck, who is not only a home brewer, but a chemist in his day-to-day job, teaches the classes.  On his website crotonbrewing.com, Godeck notes that home brewing is not those people just looking to get drunk.
"It is more about the process, the science and the experimentation," said Godeck, "than about getting drunk in your basement on your own [horrible] brew you made for half the price of buying decent beer."
Home brewing beer can take four to six weeks depending on the recipe, but there is no need to worry.
'In the meanwhile, we have the growlers so they can have some fresh ready-made beer too," O' Callaghan said.
The Green Growler has six taps loaded with mostly local microbrews such as Captain Lawrence for growler filling, and hearty supply of bottled craft beers too.  Every other Friday night from 6 to 9 p.m. O'Callaghan hosts tastings of some of the most popular craft beers.
In keeping with the beer theme, the store is also filled will beer-based snacks, such as beer biscuits and beer kettle chips. It also carries beer-based marinades and barbeque sauces. Novelty items like beer mug shaped pasta and hangover pretzels can also be found.
"We order the hard to find snacks that go with beers," O'Callaghan said. "We have some great cheeses."
As the store gets busier, O'Callaghan is embracing it and is ready for more. "This past year has been a whirlwind but I have had so much fun I cannot wait to see what comes next."