ArtsWestchester Brings Rivers to White Plains
We are part of The Trust Project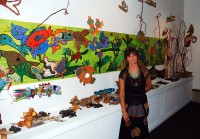 Local art aficionados won't have to leave White Plains to visit the Hudson River this summer.
In its latest exhibit, "Fish Tales Around Westchester," ArtsWestchester explores the river and the effect people have had on it as well as other waterways. The exhibit, which opened Friday and will run through Aug. 11, features works from 19 artists and was put together in collaboration with R.A.R.E. (Rare Animals Really Endangered), a Manhattan-based non-profit which uses art and science to promote a message of environmental awareness.
"It's a collaboration of artists, schools as well as organizations coming together under one roof to tell the story of the Hudson River and the Long Island Sound," said the exhibition's curator, La Benida Hui of R.A.R.E. "We actually had the artists that are from ArtsWestchester to tell a certain part of the story of the Hudson River."
In keeping with the environmental theme, works in the exhibition are made from recycled materials. Broken down into different sections to tell a narrative of mankind's impact on the environment, the artists' works show visitors both the history of the river prior to European settlement on the continent and the decline caused by human activities in the past few centuries.
"They see how much fun it can be if we take care of our environment," artist Ann Ladd, a White Plains resident tasked with showing the food chain through recycled art and painting, explains. Pointing at some of the darker pieces across the gallery, she continues, "But if you look over there and you see the devastation that we as humans are causing, we have to be more responsible for what we do. Everything we throw out ends up in the stomach of some animal."
The top floor of the gallery, located at 31 Mamaroneck Avenue, tells the story of the Long Island Sound.
The gallery will be open from noon to 5 p.m. Tuesdays through Saturdays. For more information visit www.artsw.org/fishtales.