Adding Jordan Tucker to WPHS Tigers Roster May Mean Return to Glory Days
We are part of The Trust Project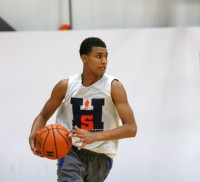 Is White Plains High School basketball on course to return to their glory days of high school basketball in our area? Remember those years when there was no separation between teams like White Plains, Mt. Vernon, New Rochelle, Peekskill and Poughkeepsie High Schools.
Remember, the late 1960's when Tigers Eric Rhodes was his own highlight film on the court and when Markus Austin led White Plains to a New York State Championship in 1999. Also, reminisce about the mid-2000 Tigers teams when David Boykin and Markus's brother Devon Austin excited the city, before Sean Kilpatrick and Ra'Shad James displayed their enormous talents during the era of 2006 -'08.
After watching the prospective 2013-14 Tigers team beat Sacred Heart High School, 43-27, in the House of Sports Summer Basketball League, on Monday, July 29; it seemed the return to those glory years is not far away.
Although, there are several reasons for the optimism concerning the Tigers basketball team's future, the main reason is the addition of Jordan Tucker to the roster.
Although, on July 29, Tucker was still not officially registered at White Plains High School, all signs point to the 15 year-old, six-foot and six-inch freshman joining the Tigers team for the 2013-'14 season.
Tucker is presently playing with White Plains High School in the House of Sports Summer Basketball League in Ardsley. Tucker is a standout player, who despite growing up in White Plains, played his middle school basketball at IMG Academy, in Bradenton, Florida, after graduating from Holy Name of Jesus Elementary School, in Valhalla.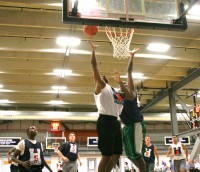 But at present, it seems Tucker is ready to come home to White Plains and help, seniors Mike DeMello, Justin Tapper, Marshon Morris, Quincy Bells, Rexler Noel, Chris Jordan and a host of talented newcomers "raise the bar" of success for Tigers basketball.
"Jordan has a lot of potential and once he commits himself to defense and rebounding, along with his offensive skills and getting stronger, he will be an outstanding player," stated Tigers Head Coach Spencer Mayfield. "I think he is a good shooter, he comes with a lot of skills, I like that he can handle the basketball and shoot with range," continued Mayfield.
Tucker even at 6' 6" can run the court like a gazelle with or without the basketball. Furthermore, his long arms and precise leaping ability make him a force to be reckoned with by opposing players as a rebounder on the boards.
However, what is most impressive about Tucker is that he is a proficient ball handler and scorer who can play any position on the court. Mayfield went so far as to stress that his potential wingman can also play point guard. "He is a perimeter player even though he is tall. Jordan plays on the wing and he is a shooter, who can also play point guard. It is nice to have a tall player who can handle the basketball and pass over the defense," emphasized Mayfield.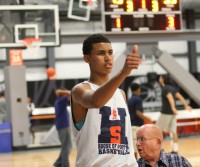 Mayfield did not mince words when asked the last time he saw a freshman basketball player come to White Plains High School with Tucker's potential. "It has been a while, I have seen some good freshmen come through (this program) like Sean Kilpatrick and David Boykin but Jordan Tucker is as good as all those players," evaluated Mayfield, who will begin his 21st season at the helm of the Tigers this basketball season.
Adding Tucker to a 2013-'14 Tigers basketball roster that already includes six seniors, Tapper, Morris, DeMello, Noel, Jordan and Bells with promising sophomores Nijee Lewis, Cheroqui Layne and Morris's stepbrother Marcus Gill and you certainly have a Section 1 contender next season.
DeMello was the Tigers leading scorer last season. During the summer he led White Plains to the semifinals of the 2013 High School Summer Shootout. He was named to the All Tournament Team for his efforts.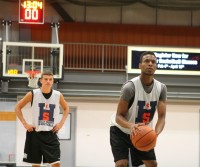 DeMello and Tapper also played on the House of Sports Elite travel team in the spring.  DeMello led House of Sports Elite to the semi-finals of the Hall of Fame Spring Classic averaging 17 points in two games.
"Jordan Tucker can do it all, he is a shooter and that will help me because than I will not have to be the only scorer," commented DeMello. "I was excited when I heard that he was coming to White Plains High School we are working hard to try and bring White Plains basketball back to superiority," said the Tigers senior guard.
Lower Hudson Basketball Coaches Fall 2013 Clinic
The Lower Hudson Valley Basketball Coaches Association will hold their Fall 2013 Coaches Clinic, at Harrison High School, on Saturday, September 28, from 8 a.m. to 4 p.m.
This year the Coaches Clinic will feature: Fordham University Head Coach Tom Pecora, Army Head Coach Zach Spiker, Hofstra University Head Coach Joe Mihalich, Joe Bower of Marist College, Orlando Magic Consultant Gordon Chiesa and famed St. Anthony's High School Coach Bobby Hurley.
All sessions of the Fall Coaches Clinic will include on court demonstrations from the aforementioned esteemed professional, college and high school basketball coaches. The cost for seven hours of instructions is $80in advance and $100 at the door. This includes a free lunch, Clinic Dri T-shirt, Coaches Dry Erase Board and Door Prizes.
All coaches are welcome including Youth, AAU and high school coaches. All proceeds benefit college scholarships and showcases for high school students, and donations to Coaches vs. Cancer charity. Any coach can register online at www.lhbca.org.
"The coaches who attend our clinic will gain seven hours of the best basketball [instruction] from the best teachers from all levels of basketball. Also, the Lower Hudson Coaches Association will be able to provide scholarships and showcase high school players, as well as donate to Coaches vs. Cancer," stated White Plains Head Coach Spencer Mayfield, the Chairman and organizer of the event.