Yorktown High Grad Makes History Being Elected to Congress
We are part of The Trust Project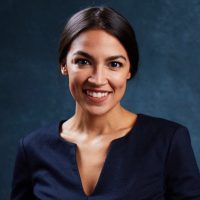 A Yorktown High School graduate became the youngest woman ever elected to Congress last week.
Alexandria Ocasio-Cortez, 29, a member of the Huskers 2007 graduating class, received 78% of the votes cast on Election Day in defeating Republican Anthony Pappas and will represent New York's 14th Congressional District, which covers the eastern Bronx and portions of northern Queens.
"We made history tonight," Ocasio-Cortez said in her victory speech. "This is what is possible when everyday people come together in the collective realization that all our actions, no matter how small or how large, are powerful, worthwhile and capable of lasting change."
On June 26, Ocasio-Cortez upset Congressman Joe Crowley in a Democratic primary. Crowley has been a congressman since 1999 and for the last two years has served as the Democratic Caucus Chairman of the U.S. House of Representatives, the fourth highest leadership position in the House Democratic Caucus.
Ocasio-Cortez won 57% of the votes cast in the primary in her first bid for elected office and reportedly spent less than $200,000 in the campaign, as compared to $3.4 million spent by Crowley.
"Words cannot express my gratitude to every organizer, every small-dollar donor, every working parent and dreamer who helped make this movement happen," Ocasio-Cortez said in her speech last week. "And that's exactly what this is. Not a campaign or an election day, but a movement, a larger movement for social, economic and racial justice in America."
According to Wikipedia, from 2003 to 2007, Ocasio-Cortez attended Yorktown High School, where she won second prize in the Intel International Science and Engineering Fair with a research project on microbiology. As a result, the Lincoln Laboratory at MIT named a small asteroid after her: 23238 Ocasio-Cortez.
After high school, Ocasio-Cortez attended Boston University and worked as an intern in the immigration office of U.S. Senator Ted Kennedy. She graduated in 2011 with a bachelor's degree in economics and international relations.
Ocasio-Cortez worked as an educator at the nonprofit National Hispanic Institute after college and created a publishing company that specializes in children's literature painting a positive picture of the Bronx. In 2016, she worked as an organizer for Congressman Bernie Sander's presidential campaign.
During her term in office, Ocasio-Cortez said she plans to pursue abolishing Immigration and Customs Enforcement (ICE), student loan debt, universal Medicare, $15 minimum wage, and federal legalization of marijuana.