Westchester SPCA Pleas for Help with Abandoned Ossining Dog
We are part of The Trust Project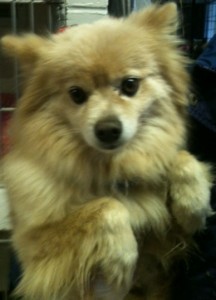 The Society for the Prevention of Cruelty to Animals (SPCA) of Westchester is seeking help to find the owner of a neglected abandoned dog in Ossining.
The SPCA of Westchester rescued a senior Pomeranian, now named Cheerios, whose hair was so horribly matted it prevented his back legs from moving properly.
"We see many cases of neglect here at the SPCA of Westchester but Cheerio's case has really pulled on our heartstrings," says Lisa Bonanno, development manager. "Cheerios was found in Ossining, wandering around in the cold, clearly in distress. After 3 hours of brushing and shaving, we could finally see poor Cheerios legs hidden under there and were finally able to separate them so that he could walk properly."
Marge Gottesman, a SPCA volunteer, said that Cheerios was a help up well through the grooming process.
"Cheerios was great through all the tugging and grooming." Gottesman said. "Once we could finally see him through all that hair, he was actually a very cute dog!"
However the SPCA soon discovered that Cheerios neglect was more extensive.
Once SPCA veterinarian, Megan Caulfield, D.V.M., was able to examine him, it became apparent that Cheerios was most likely abandoned because he has many underlying health issues that need urgent attention. Cheerios has a heart murmur and 2 luxating patellas, which causes problems in the knees.
"We all know that medical care equals big out of pocket expenses that some are unable to afford, especially in this economy," Bonanno said.
The SPCA is hoping a member of the public may know Cheerio's owner, who illegally abandoned him on the streets of Ossining in dire circumstances.
It is also hoping that someone may consider donating to this special dog's medical fund.
Through the SPCA's Mend a Friend Fund, animal lover's can donate to help Cheerios and animals like him that need extra TLC and attention.
The SPCA of Westchester is located at 590 North State Road, Briarcliff Manor. It can be contacted through email at info@spca914.com or on the phone at 914-941-2896.
or email us at: info@spca914.com