Seniors Find Care, Love and Respect at My Second Home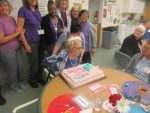 Last Wednesday, Annetta Greco made sure to complete her exercise in the morning, then had lunch with friends. Her day was capped off with everyone gathered around singing "Happy Birthday" and watching her blow out the candles.
That seems like a pleasant way for anyone who is turning a year older to spend their day. But it's all the more stunning because last week Greco turned 103 years old.
"To be that age and have her around is really amazing," her daughter, Anna Marino, said before the birthday cake was cut. "It's great having her around, actually, with the grandkids. At least she gets to see them grow up."
What also made the celebration special for Greco is she shared it with her friends and staff at My Second Home, a social model adult day program in Mount Kisco that for the past 20 years has provided activities, companionship and stimulation for older adults. It is administered by Family Services of Westchester.
Most of the roughly 75 participants who are registered for the program are seniors and attend at least twice a week, said Karen Bisignano, My Second Home's director. About 80 percent have some level of cognitive impairment or early stage dementia such as Alzheimer's, but are relatively high functioning. The space can accommodate up to 50 registrants each day.
Bisignano said that by engaging the person in activities with the help of dedicated staff, the goal is to provide meaningful days that will also hopefully slow a person's decline as much as possible.
"The most important work that's been going on here since 1997 is how the staff works to give these people a day of dignity, continuous days of dignity," Bisignano said. "They are cared for, they are loved and I think it goes vice versa."
Among the programs offered are arts and crafts and exercise classes along with discussion groups where participants may engage each other on a certain topic.
Outreach Coordinator Deb Casill said a new program called Evening Edition in the latter part of the afternoon is for My Second Home's newer visitors that features discussions and a broad range of activities.
"It's really been a great program for people who are newly diagnosed because it's an exercise for the brain," Casill said.
The major highlight is the intergenerational program My Second Home participates in with the Mount Kisco Child Care Center, which shares the same building on Radio Circle. The relationships that are formed benefits attendees from both programs, lifting the spirits of the seniors while helping young children to learn patience and acceptance.
"When the kids interact day in and day out with the grandma and the grandpa, they don't see the infirmity or the frailty," Bisignano said. "They see a grandma or a grandpa, an older person that they can help, but also help them."
At 103, Greco is the oldest participant at My Second Home, which opened a second location in White Plains in 2015. Born in Germany, she grew up in northern Italy. She immigrated to the United States in 1951, the year after she married, Marino said. Her parents settled in the Bronx.
She lives with her daughter's family in Pleasantville.
"She's always been an extremely strong person, strong-willed," Marino said. "She a very, very strong lady and I think that's what's gotten her through in life."
Bisingano said Greco doesn't suffer from any major cognitive impairments and often displays a refreshing sense of humor. Greco would only admit to being 39.
However, there are others who visit My Second Home who are much younger, including one who is 57. New arrivals sometimes have a difficult time accepting more help or the likelihood of slowly evaporating independence.
Bisignano said not all participants come willingly from the outset.
But My Second Home is where participants can have lunch, be helped by staff, spend an enjoyable day and maintain their self-respect. It's also where the staff and the seniors put the societal stigma aside and enjoy each other's company.
"It's a fun place to be every day," Bisignano said.
For more information, call 914-241-0770 or visit www.fsw.org.