Police Make Arrest in New Year's Eve Mt. Kisco Bank Robbery
We are part of The Trust Project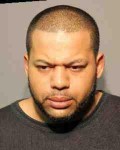 A 38-year-old Bronx man was arrested in Elmsford on New Year's Eve in connection with the robbery of the Mount Kisco TD Bank branch less than an hour earlier.
The suspect, Eddy Cruz, was charged with third-degree robbery, third-degree grand larceny and fourth-degree criminal possession of a controlled substance after Elmsford police pulled over the vehicle he was driving at about 5:40 p.m. on Tuesday that fit the description of a car that had left the bank at 193 Main St. Eyewitnesses had provided Mount Kisco police with the vehicle's description at the scene and that information was broadcast to other law enforcement agencies.
Elmsford police found more than $6,000 in cash, robbery proceeds and similar clothing worn by the perpetrator of the robbery, according to Mount Kisco police. Police also discovered 10 grams of cocaine in Cruz's car.
Cruz was arrested nearly three hours later and charged with the three felony counts. He was transported to Westchester County Jail in Valhalla on Wednesday afternoon after he failed to post bail that was set at $400,000 cash or $800,000 bond by Mount Kisco Village Justice Mark Farrell during the morning arraignment.
Investigators are also looking into whether Cruz may have been involved in other bank robberies.
Police said that Cruz entered the bank on Tuesday at about 5 p.m. and handed a teller a note demanding money or face physical injury. The teller proceeded to hand over more than $6,000.
Information about the robbery is being shared with state police and other law enforcement agencies in New York and other states.
Cruz is scheduled to return to Mount Kisco court tonight (Thursday) at 7 p.m.