Peekskill in Step with One Billion Rising Campaign
We are part of The Trust Project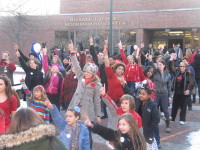 Approximately 100 girls, women and men gathered together outside the Neighborhood Center in Peekskill on Valentine's Day as part of a global movement to end violence against females.
A dance flash mob, which included Peekskill Mayor Mary Foster and councilwomen Marybeth Mcgowan and Kathleen Talbot, performed to "Break the Chain," a song created for the One Billion Rising effort, the largest day of action in the 15-year history of V-Day.
"We're dancing with love and respect for all humans, especially girls of all ages," said Sol Miranda, who with Katie Schmidt Feder, coordinated the event for EMBARK/Peekskill, Performing and Literary Arts.
V-Day is a worldwide activist movement to curb violence against women and girls that raises funds an awareness through benefit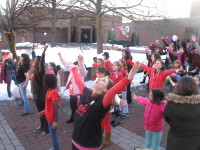 productions of Playwright/Founder Eve Ensler's award-winning play The Vagina Monologues and other artistic works. To date, the V-Day movement has raised more than $90 million and funded over 14,000 community-based anti-violence programs and safe houses in Democratic Republic of Congo, Haiti, Kenya, South Dakota, Egypt and Iraq.
In Peekskill, Victoria Markouizos said the Peekskill office of Victims Assistance Services assisted 75 victims of sexual violence and 314 victims of domestic violence last year.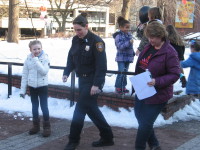 Foster said Peekskill was one of seven communities in Westchester taking part in the One Billion Rising movement, which began as a call to action based on the sobering statistic that one in three women in the world will be beaten or raped during their lifetime.
"It's just inspiring and wonderful to be part of this movement, which reminds people that love doesn't have to hurt," said Foster. "We, as women, have to love our bodies and protect our bodies."