Opposing and Combatting Anti-Semitism Discussed at Temple Israel Center
We are part of The Trust Project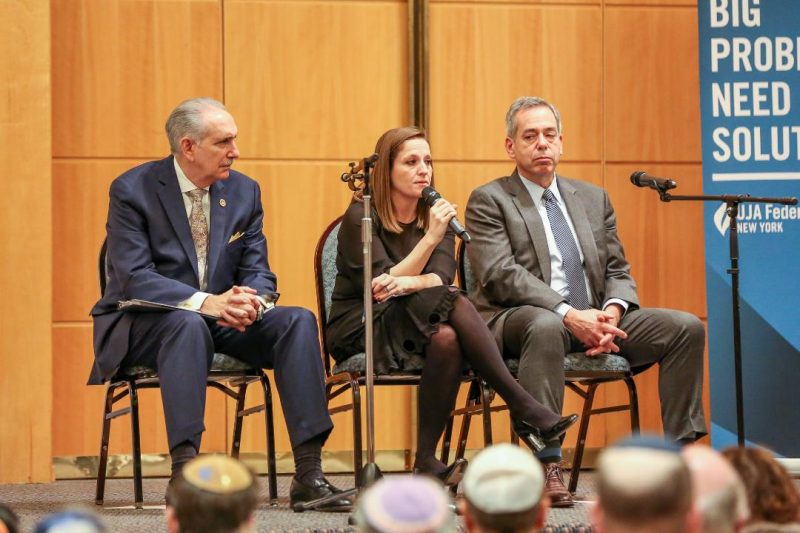 Acts of Anti-Semitism have occurred with disturbing regularity in the area in recent weeks.
There was deadly violence at a kosher market in Jersey City in December, a recent Hanukkah attack in Monsey and locally, a menorah was toppled at Veterans' Field as part of a vandalism spree, which included houses of worship, in Yorktown in early January.
Opposing Anti-Semitism was discussed in front of an audience of about 800 residents last week in White Plains.
"Anti-Semitism: What We Face and How We Fight It," a discussion about the rise of anti-Semitism in the United States and abroad and Westchester's efforts to combat hatred was held on Jan. 8 at the Temple Israel Center.
The speakers were Westchester County District Attorney Anthony A. Scarpino, Jr., Mark Weitzman, director of government affairs for the Simon Wiesenthal Center, and Hindy Poupko, deputy chief planning officer at UJA-Federation of New York. 
Scarpino discussed the work of his office, including the Westchester Intelligence Center. Scarpino said his office has been collaborating with the Westchester Jewish Council and the UJA "on important initiatives to serve to protect the community."
Scarpino said the Monsey attack "was part of a pattern of Anti-Semitic violence in our region."
The Intelligence Center, which is staffed with analysists and criminal investigators, immediately contacted the State Police and went on alert after the Monsey attack, Scarpino said. Part of the responsibilities of the Intelligence Center is hate crime and hate speech intelligence gathering, partnering with several federal and state and local departments and agencies, Scarpino said. "Upon request we conduct research into social media and other online sources of information to identify, track and monitor individuals and groups engaged in hate incidents," Scarpino said. "We have established a hate crimes, hate speech database of reported incidents. In addition, we have mapped the location of all Westchester houses of worship to allow law enforcement to act quickly on threats that may affect more than one location."
Weitzman said he is often asked about Anti-Semitism. "Are we in a period that resembles 1933 Germany? Are we on the verge of having what happened there happen to us here?" he said. The answer to those questions is "a categorical no."
Weitzman said current American Anti-Semitic violence does not resemble what happened in Germany in the 1930's. "We have no heritage in this country of official state-sponsored violent Anti-Semitism," he said. "Anti-Semitism has always had to compete with other forms of bigotry." In addition, there have been movements throughout American history to fight back against Anti-Semitism and "most Americans retain bitter memories of days past when they or their ancestors were themselves the objects of prejudice and discrimination," he said, adding the United States does not have a formal state-sponsored established religion.
"Anti-Semitism is foreign to American ideals. These ideals have not always been lived up to, but nonetheless the ideals are enshrined in our founding documents," Weitzman said.
"Anti-Semitism has always been present and has always been a part of the fabric of American history. It predates the founding of our country," Weitzman said.
There have been serval violent acts of Anti-Semitism in the United States since the 1980's, Weitzman said even though after the Nazi Holocaust Anti-Semitism was repudiated by the mainstream in the United States. "That appears to have changed now," he said. Anti-Semitism has entered the political discourse, including in conspiracy theories, in recent years, he said.
Weitzman discussed how Anti-Semitism should be fought. "First, we have to have a common understanding of what Anti-Semitism is," he said. The National Holocaust Reembrace Alliance working definition is: "the targeting of Jews just because they are Jews. And Jews just because Israel is a Jewish state," he said, adding criticisms of Israel in ways other countries are criticized, not based on religion, is not Anti-Semitism.
Greater security at Jewish institutions and the assistance of law enforcement is needed to fight violent Anti-Semitism, Weitzman said. The White House should appoint a person to be the center of the efforts to fight Anti-Semitism, he said. "We also need to push the tech companies to live up to their own standards and to ban posts that promote Anti-Semitism, racism and hate," he said. "That effort is not censorship as it involves private contractual obligations and not government regulation."
Poupko said there is Anti-Semitism expressed by both the far right and far left in the United States. The question is how to confront hate in the world, she said.
Poupko said the UJA Federation and its partners are embarking on a multi-million dollar "wholesale upgrade of our community security infrastructure."
People need to show up in communities that feel threatened or have been attacked, Poupko said. "When a Jew is threatened or beaten up or murdered or worse, it's as if we are all threatened," she said, pointing to the large march in New York City the previous weekend. "These persistent attacks must end."