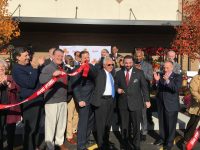 The newly paved parking lot in the Cortlandt Crossing Shopping Center was packed to capacity and the lines inside were long as curious customers got up early Sunday morning to check out what the new state-of-the-art ShopRite supermarket had to offer.
Outside, officials from Cortlandt, Peekskill, Yorktown, Westchester County and state government joined ShopRite management and associates in cutting the ribbon for the 65,000-square-foot store on Route 6 in Mohegan Lake, which replaces the 50-year-old ShopRite down the road that had long outgrown its capacity to provide shoppers with necessary services and products.
"We kind of outgrew that building 20 years ago," said Jon Paul Lake, store manager of the new ShopRite, which is 21,000 square feet larger than the former store. "People want more choices and varieties at affordable prices."
Planning for the Cortlandt Crossing Shopping Center began more than six years ago after Acadia Realty, which operates the Cortlandt Town Center across the street, acquired the property. Ground on the project was broken two years ago and new traffic signals were installed.
"We are thrilled to mark the opening of our new, improved ShopRite of Cortlandt at the brand new Cortlandt Crossing Shopping Center," said Brett Wing, president of ShopRite Supermarkets, Inc. "We are confident that the newly relocated store will enhance the overall shopping experience and allow us to better serve the local community while still providing the best prices and top-notch service our customers have come to expect."
The new store will have about 265 employees, approximately 60 more than the previous store had. All employees from the former supermarket were retained.
"We wanted to make sure a familiar face was here," said Lake during a sneak peek media tour at which he compared the opening of the store to the birth of a child.
One of 35 ShopRite stores in New York and New Jersey, the new store will offer a broad array of groceries including both private label and national brands; fresh produce delivered daily – with a variety of conventional and organic produce from both around the corner and the world; a meat department where trained butchers custom cut meat for customers; a full-service seafood department with daily, fresh-catch deliveries and 45 different varieties; prepared foods department with a new chef-prepared Asian inspired cuisine; a new Blend Smoothie Bar located inside the store; a café; and a variety of locally sourced foods, including yogurt from Freedom Hill Farm in Ottisville and SuperKrauts probiotic sauerkraut from New Paltz.
Other amenities include: a from-scratch fresh bake shop features store made special occasion cakes, fresh store made doughnuts and artisan bread free of artificial flavor, color and preservatives, along with a variety of gourmet cakes, fresh pastries and scrumptious sweets to indulge in; A Free Fruit for Kids program where kids can receive free fruit when they are at the supermarket. Under the program, kids 12 and younger receive a free banana, clementine or other seasonal fruit while shopping with a parent or guardian; a new Floral Department featuring a large selection of garden center plants, an expanded assortment of potted plants and floral bouquets and "make-your-own bouquet" bunches; and a pharmacy with a private room for immunizations and a diabetic product section to meet customers' needs.
ShopRite will also offer a variety of services to help save on time, including Mobile Scan, a free service that takes shoppers beyond the traditional self-checkout lane to self-checkout as you go, allowing customers to use the camera on their personal mobile device (iOS or Android) to scan barcodes of items as they shop; an increased number of self-checkout lanes; and the ShopRite Deli & More app (available for iOS or Android), which allows customers to place their deli order ahead of time for in-store pickup. The online ShopRite from Home® service will also be available to customers. ShopRite associates personally shop those online grocery orders and customers can pick up their groceries at the store or have their orders delivered right to their doorstep.
ShopRite of Cortlandt, which has eight self-checkout lanes, will be open daily from 6 a.m. to 1 a.m.