Music Conservatory of Westchester Colors of Music Student Mural Contest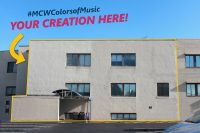 Calling all Westchester County aspiring teen artists! The Music Conservatory of Westchester has launched the Colors of Music Student Mural Contest with a search for talented local students to share their artistry on a public canvas, and collaborate with an experienced professional in a mural representing the theme of "Multi-Cultural Music." One winner and three runners up will be selected by a panel of art experts from Westchester and New York City. The winner will collaborate with mural artist Jonathan Villoch to create the final mural design. All four original student designs will be incorporated into the mural as well as displayed inside the Conservatory building.
This opportunity is open to all eligible residents of Westchester County, and current students of the Music Conservatory of Westchester. Entrants must currently be in grades 7-12. Contest entries must be submitted by Friday, May 11, 2018.
Original art submissions will show the student's interpretation of "Multi-Cultural Music" using a variety of mixed media of the student's choice. Copyrighted material or images of celebrities will not be allowed. The Conservatory asks that students limit artwork to images of family friendly subject matter.
A judging panel of art experts, including Janet Langsam, CEO of Arts Westchester, Lynn Honeysett, Executive Director of the Pelham Art Center, Samantha De Tillio, Assistant Curator, Museum of Arts and Design, Margaret Adasko, Curator of Education, Katonah Museum of Art, and the mural artist will make selections in two rounds.
Round 1 will be a digital submission round accepted via email. If chosen for Round 2, the original artwork must be mailed or dropped off at the Music Conservatory of Westchester to be considered for winning the contest.
Student entrants must complete and send a submission form signed by their parents and a digital copy of their artwork to ColorsOfMusicContest@gmail.com.
For more information about the contest guidelines and to complete the submission form, visit: www.musicconservatory.org/colorsofmusiccontest .
The Colors of Music Student Mural Contest is made possible by a Challenge America grant from the National Endowment for the Arts (NEA). The Conservatory is honored to be a recipient in this nationally competitive award program.