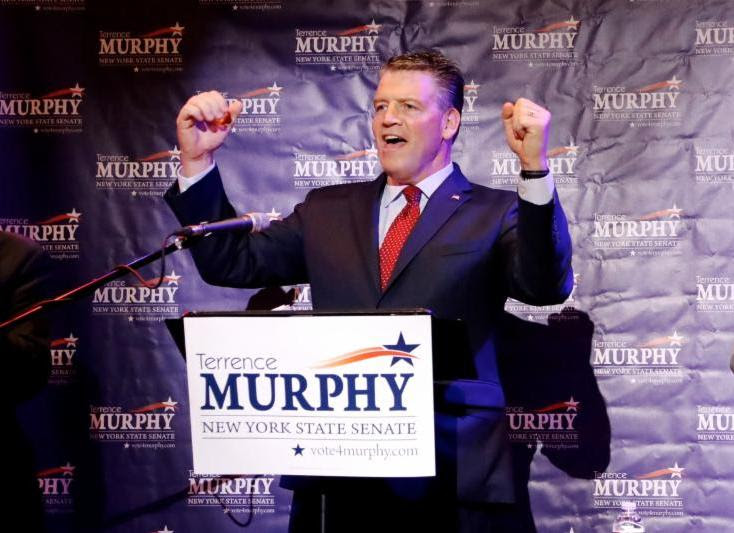 By Kristen McNerney and Rick Pezzullo
At his campaign kickoff last week, NYS Senator Terrence Murphy vowed to continue, "fighting the fight" for constituents in the 40th district.
At a campaign event this past Thursday evening in Peekskill, Murphy accepted his bid for reelection as he goes up against likely Democratic challenger Robert Kesten of South Salem. Accompanying him was Assemblyman Kevin Byrne, of New York's 94th district, Putnam County Legislator Joseph Castellano and other Hudson Valley dignitaries.
Welcomed on stage by thundering cheers and the Rocky theme song, Murphy took to the podium to address supporters.
"This is awesome," Murphy said to the cheering crowd. "It's just an honor and a privilege to represent so many people and do so many things that are available. You get involved in this to do the right thing. I will continue to do the right thing for the people of the 40th District. I'm blessed to be able to do what I do."
Murphy spoke about his efforts in tackling the heroin and opioid epidemic, mentioning comprehensive legislation he spearheaded is being duplicated nationwide by other lawmakers.
"When I went to Albany I knew we had to do something," said Murphy, who chaired a Senate Task Force on Heroin and Opioid Abuse. "It's a life and death situation."
Byrne, who also accepted his bid for reelection, delivered a passionate crusade for providing "the best constituent services across the state." Byrne vowed to fight back against New York City's special interests and a billion-dollar tax increase, claiming that the city exploits "dark money" for its wasteful practices. Byrne believes that the Hudson Valley should be a beacon of light to those who are sick of New York City corruption. On the state level, he pledged ethics reform in Albany and to protect gun owners' rights.
Byrne emphasized the shared obligation of himself and Murphy to fight back against the "blue wave" of New York State government and to provide for the every- day hardworking Americans in their districts. Byrne declared, "the Hudson Valley is not for sale."
Castellano of Putnam's District 7 shared details of his long-term friendship with Murphy and described Murphy as someone you would want to be your "next-door neighbor." Castellano feels there is a difference between running for office and actually governing, and that Murphy exemplifies that difference by delivering results.
"This is exactly the kind of guy we need representing us in Albany," said Castellano. "He's a regular guy, a father, a husband and I'm truly honored to call him a friend. Terrence gets results."