Mt. Kisco, County Continue to Weigh Police Merger Option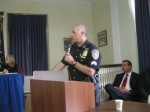 Mount Kisco officials may support consolidation of police services with Westchester County, but residents were divided last week over the prospect.
A proposal developed by the county at the request of the village board was outlined last week by Westchester County Police Sgt. Jeffrey Weiss. During the June 16 meeting that packed village hall, several residents expressed concerns about losing the benefits of local policing.
Negotiations between the county and the village have been ongoing for the past two-and-a-half years. Mayor Michael Cindrich and the village's Police Benevolent Association support consolidation with the Department of Public Safety, but no agreement has been reached between the two sides. No timetable was given last week for when a decision will be made.
Weiss said the key issue is how the village can overcome the inefficiencies inherent to local departments while still providing consistent and appropriate level of police services.
Difficulties faced by small police forces include long-term manpower shortages because of  injuries, unfilled vacancies, sick time and vacations, as well as forced overtime that leads to burnout, Weiss said.
Sharing police services reduces costs, including overhead, he said. If consolidation goes forward, it is estimated Mount Kisco would save $2.4 million over the first five years, he said.
Under a merger, Mount Kisco would choose the level of service it wanted, which the county would be obligated to provide. During an initial consolidation period, current village officers would patrol Mount Kisco while county officers become more familiar with the neighborhoods, Weiss said. Eventually there would be a mix of current village and county officers in Mount Kisco.
Village officers would be offered employment with the county force and have opportunities with the county, Weiss said.
The Mount Kisco Police Department currently has 28 employees, including 16 officers. During a typical shift, two or three officers are on patrol with one sergeant remaining at headquarters in a supervisory capacity. Under consolidation, each shift would have three patrol officers with a supervising sergeant for the day and evening shifts. Two officers and a sergeant would handle the midnight shift.
Other personnel include a sergeant to provide supervision in the field, a lieutenant on duty to provide routine supervision and who could respond to a scene, and a captain or a higher-level employee on duty to provide command-level supervision, Weiss said.
When there are multiple calls, the department currently runs the risk of becoming overburdened, he said. Having only one sergeant at headquarters could lead to poor supervision of officers in the field or understaffing of officers, he said.
Several residents were skeptical about the proposal, expressing concerns that the village would lose its close relationship with the local department. Mel Berger, president of the Mount Kisco Drug Abuse and Alcohol Prevention Council, said he supported the concept but the council has a strong relationship with the department and there is concern consolidation could change that.
County Police Commissioner George Longworth said the police would continue to work with local organizations as it does in Ossining following that town's consolidation in 2010, and in Cortlandt, where it assists the state police with coverage.
Several residents, including Kim Terlizzi and her husband, Louis, a lieutenant in the village police department, said the consolidation plan should be put up to voter approval via a referendum and not left to the village board.
Cindrich responded that there were no plans to hold a referendum unless the village was legally required. Ossining and Cortlandt did not hold a vote, but village officials did research the issue, he said.
Resident Alfredo Sandoval spoke in support of consolidation, which would "enhance the village" by providing additional police services.
Mount Kisco PBA President Sgt. Joseph Spinelli said the union supported consolidation. The added staffing would be an asset for the village, Spinelli said. The county would also provide specialized police services, such as a K-9 unit and a Special Response Team that would be stationed in or near Mount Kisco.
"This is a great opportunity for the village and the police department," Spinelli said.
If consolidation is approved, Mount Kisco's patrol would be stationed in the current police headquarters with units dedicated to the village. That would improve local coverage and accessibility to residents, Weiss said.
Three detectives, all of whom would be stationed in the village, would be assigned to handle local investigations, he said.
The public's relationship with the Mount Kisco police would remain the same. Callers would still use 911 for emergencies and a call box would remain at police headquarters. There would be a county police liaison and administration, Weiss said.