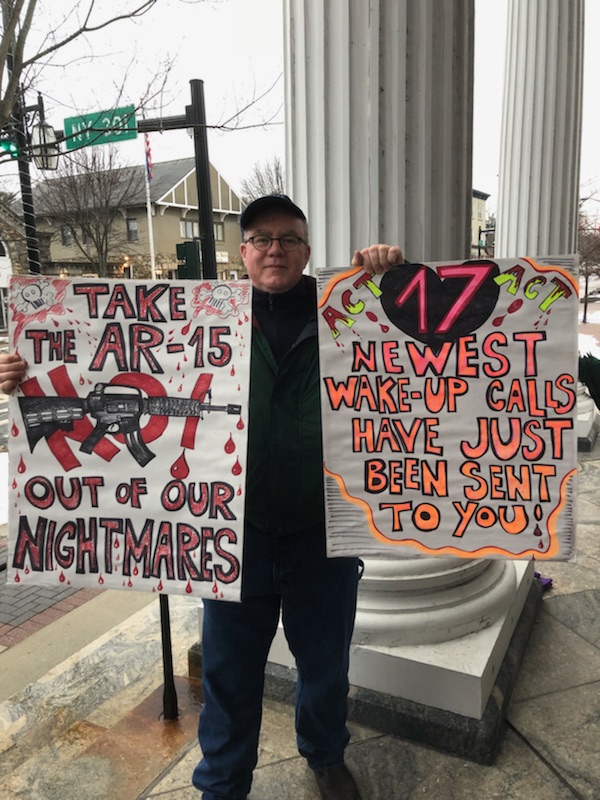 By Anna Young 
More than 100 concerned residents from Westchester and Putnam counties assembled early Monday evening outside Carmel's Historic Courthouse demanding stronger gun control legislation and honoring victims of gun violence.
Members of Putnam Progressives, Indivisible Yorktown, Action Together Northern Westchester, Moms Demand Action, CD17 Indivisible and other groups gathered with signs and candles questioning why more isn't being done to protect children and prevent gun violence after 17 students and staff members were killed at Marjory Stoneman Douglas High School in Parkland, Fla. last week.
"It makes me sad that people aren't safe when they go to school," 11-year- old Yorktown resident Abe Marron said. "Assault rifles are used to kill and people die when they go to school."
Elementary school teacher Marcia Stone reflected on the security change in the aftermath of the 1999 Columbine High School massacre, adding that schools are a place for learning, not death.
"This is not what's supposed to be happening in our schools," Stone said. "Teachers are supposed to be teaching not worrying about the lives of their students let alone their own lives. This situation cannot be tolerated. It's up to us to take action."
The crowd joined together in a solemn rendition of "Imagine" and "We Will Overcome" during the hour-long vigil.
While several in attendance carried signs and chanted slogans such as "Enough is Enough," contentious debate broke out between residents with differing views on gun regulations. One resident yelled at Marron for holding a sign that read "How much has the NRA paid for each dead child?"
Carmel resident Denis Giriat, who screamed over speakers and erupted in debate with several attendees, said allowing "people of good character" to obtain a concealed carry license will reduce crime. He said protesters want to disarm the public by banning guns, which will increase crime. He added residents who carry firearms with the proper training would provide a "balance of power."
Barry Graubart, a member of Mom's Demand Action, read aloud the names of those who were gunned down in Florida, stressing that every loss matters and touches hundreds of lives. He said every mass shooter displays red flags but law enforcement officials can't stop someone who could be a danger to themselves or others due to strict laws.
"We are not wanting to take away everybody's guns, what we want to do is make sure the wrong people don't have guns," Graubart said. "There are many deaths we can prevent with common sense gun laws."
Putnam County Sheriff Robert Langley stressed the importance of speaking up and listening to children when they say something. It can be a vital piece of information that can save lives, he said.
Speakers also criticized the Trump Administration and local officials who oppose common sense measures that limit the proliferation of firearms, vowing to kick them out of office if they don't strengthen gun laws.
Robert Kesten, a South Salem resident and a Democratic candidate for the 40th Senate District seat, said that a human life is more sacred than the Second Amendment. He said change could happen if people get out and vote.
"People in this country that are afraid of democracy and believe that guns will protect them, they will not," Kesten said. "The only thing that protects us and makes us free is our ability to protect our democracy in every way we possibly can."
Earlier in the day, County Executive MaryEllen Odell, in a press release, stressed school safety is a top priority in Putnam. Her office and the county Legislature have been working with area school superintendents to ensure School Resource Officers (SRO) remain on school campuses. An SRO is a uniformed, certified, officer from the sheriff 's department meant to protect the school's safe environment.
"We continue to work with the schools, law enforcement and the extremely qualified mental health professionals in Putnam County to protect our students and our residents," Odell said.
Langley echoed Odell's statement and said the sheriff 's office is dedicated to the SRO program.
"I would like to remind everyone- if they hear something or see something say something," Langley said. "Never dismiss what our children and others are saying to us no matter how insignificant one may think it to be."