Great Jack O'Lantern Blaze Spooky Fun in Croton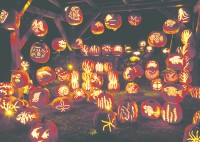 For the last eight years, it has become as part of the fall and Halloween season as apple picking and trick-or-treating.
The Great Jack O'Lantern Blaze on the historic, 18th Century landscape of Van Cortlandt Manor in Croton-on-Hudson has without a doubt been one of the can't miss events in the area, as 80,000 visitors who were in awe of the thousands of carefully carved and created pumpkins last year can attest to.
"There's no other Halloween event like this in the tri-state area," said Rob Schweitzer, public relations coordinator for Historic Hudson Valley. "This is definitely our flagship event and it really transcends the season of Halloween. It grows every year."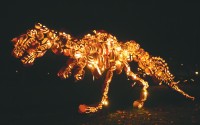 The first Great Jack O'Lantern Blaze drew 15,000 spectators. Due to its incredible popularity, this year there are 22 scheduled nights, starting with this past Saturday and running through November 11.
For the six weeks of shows, 100,000 pounds of pumpkins are ordered from an upstate farm. Each night, more than 5,000 jack o'lanterns are on display, about half of which are real and the other half are foam, known as "funkins."  However, each pumpkin is hand-carved and designed by one of the 15 carvers, who range in age from college students to senior citizens.
The mastermind behind the scenes of the Blaze is Michael Natiello of Garrison who, with the help of more than 1,000 volunteers, enjoys making the spooky spectacular different each year.
"As we're setting up we're thinking what we can do next year," Natiello said. "We try to mix it up so it's not the same as last year. Anything we can do with foam pumpkins we can do with real pumpkins. I believe almost anything can be done."
Favorite displays like the dinosaurs, snakes, aquarium and 50-foot-tall spider web will all be included in this year's Blaze, along with several new attractions, such as a 16-foot-tall bonfire, circus animals and the Tunnel O'Pumpkin Love.
This year which also feature a new original soundtrack by recording artist Richard Christy that should delight visitors as they meander through the trails. There are also refreshments, pumpkin carving demonstrations and a gift shop.
Tickets are going fast. For ticket information and nights of the Blaze, visit www.hudsonvalley.org or call (914) 366-6900.