Ginsburg Development Buys Halstead White Plains Apartments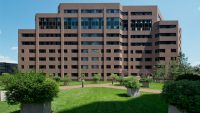 In its first entry into the Downtown White Plains market, Ginsburg Development Companies (GDC), a developer of luxury rental apartments, purchased the 124-unit rental building at 25 Martine Ave., in White Plains.
The 12-story building, known as Halstead White Plains, was purchased by GDC from DSF Group for $35.25 million. GDC plans to make major renovations to the building and rebrand it with a new name.
"We are very pleased to be entering the White Plains rental market, which has been experiencing rapid growth in recent years. With its abundance of fine dining and upscale shopping plus quick access to Manhattan via Metro-North, downtown White Plains has become popular with millennials as well as empty nesters. These are the two demographic groups that we have been successfully marketing to at our other luxury rental developments in Westchester," said GDC Principal and Founder Martin Ginsburg, in a media statement announcing the purchase. "The cost of living in New York City has become prohibitive which makes White Plains with its transit-oriented developments more attractive than ever before. We are very bullish on Downtown White Plains," Ginsburg added.
The Halstead White Plains is in close proximity to the White Plains train station, just a short walk. Its purchase by GDC reflects the developer's transit-oriented residential development scheme in other areas of Westchester. The company is currently completing River Tides at Greystone, a transit-oriented luxury rental in Yonkers.
Last year, GDC completed two major rental projects in Westchester: Harbor Square in Ossining and The Lofts on Saw Mill River in Hastings-on-Hudson, and will soon begin transforming a former convent property in Peekskill overlooking the Hudson River into a resort-style tourist destination.