News Based on facts, either observed and verified directly by the reporter, or reported and verified from knowledgeable sources.
Carmel Crushes Arlington, P'Ville Nips Byram, Somers Topples 'Pac
We are part of The Trust Project
Ray Gallagher, Examiner Sports Editor @Directrays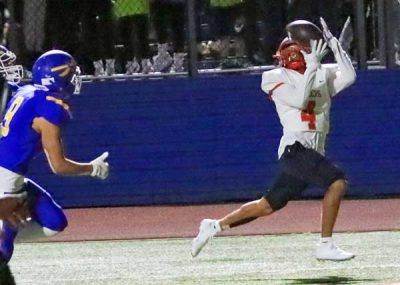 Word out of Dutchess County and parts of Section 1 was that sectional runner-up Arlington (now a shocking 2-3) was the Class AA team to beat entering the 2022 campaign. Don't think for one second that state-ranked (No.5) CARMEL (ranked No.1 among teams in the state tournament), took kindly to those whispers. The reigning NYS Class AA champion Rams (4-0) crushed and hushed the upstart Admirals in a 62-21 thrashing last Friday to win for the 20th straight time.
"I thought we just had a good week of practice," said RB/DB Nick Rosaforte, who has the look of a two-time All-NYS player. "Our coaches got us prepared and we played to the Carmel standard. I'm proud of everyone, especially the O-line who played a hell of a game! Our line has been playing very well and working hard at practice everyday. We have to stay level-headed and prepare the same way and play at the same speed every week."
Two touchdown passes from Admiral QB Mike Rescigno had Arlington within 35-21 in the third quarter, but the host Rams reeled off two more scores, including RB Tristan Werlau's 91 yard scoot up the gut to paydirt for a 49-21 with 2:01 left in the third. Werlau, just a sophomore, also capped Carmel's opening drive with an eight-yard touchdown trot. QB Matt Gay's 27-yard pass to Damien Santiago set up the first score, and a two-point pass by Gay to Jake Storen made it 8-0 at 8:21 of the first.
The next drive was all Rosaforte, including jaunts for 13, 24 and a 17-yard score for 14-0 lead at 4:51, the first of two scores for Rosaforte. Santiago, a 6-4 junior with mad skills, added a sack, an INT and blocked punt for a TD and snared four passes for 129 yards, including a 55-yard touchdown.
The Rams scored in all facets of the game and went for 577 yards of offense, including a whopping 443 rushing yards. Werlau led the attack with 12 carries for 169 yards and three scores. Thomas Keating has returned from a two-week injury and supplied 119 yards on just 11 totes and Rosaforte made the most of nine rushes for 115 yards and three tuddy's. Gay finished with an impressive 8 of 9 through the air for 142 yards.
OSSINING's Vinny Stella put the Pride (3-2) up for good in their 41-34 win over WHITE PLAINS (0-4).
CLASS A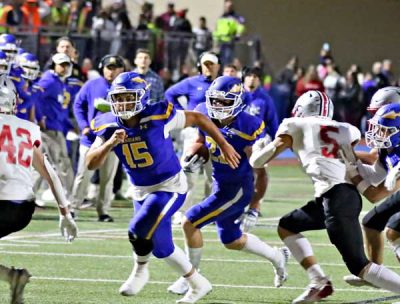 Host MAHOPAC put its best foot forward on Homecoming Day against NYS Class A runner-up SOMERS, but it was the state-ranked (No.1) Tuskers (4-0) who prevailed, 28-21, on a one-yard TD plunge from All-NYS QB Matt Fitzsimons in the game's waning seconds.
Mahopac RB Joey Koch went Wildcat for a 12-yard TD and a 7-0 lead at 4:34 of the first quarter, supplying ample electricity for the massive crowd on hand, which was treated beyond reproach with fireworks and parachuters. As usual, the Mahopac boosters left no stone unturned.
Somers RB Ravi Dass answered three plays later, hauling in a 25-yard strike from Fitzsimons at 3:43 of the first to tie the score at 7-all.
Dass then went for a 16-yard TD scoot for a 14-7 at 8:27 of the third. After a Justin Sanchez fumble recovery (forced by Liam Dodd), Mahopac (1-3) was back in business, and Koch (19 carries, 127 rushing yards) answered back with a 16-yard TD catch from QB DJ DeMatteo, but the PAT was blocked by Navy-bound Jake Polito at 2:42 of the third.
Tusker DB Mike Aquilino picked one off for Somers at 8:33 of the fourth and a crucial unsportsmanlike penalty against the Indians set Somers up at the Mahopac 16. Somers junior HB James Balancia then punched it in, untouched, from four yards out at 5:08 of the fourth for a 21-13 lead.
Speedy Indian John Kearny's 74-yard TD catch from DJ DeMatteo (7 for 11, 159 yards, 2 TD passes) and Joey Koch from the wildcat to Owen Ryan for the two-point conversion made it 21-all with 2:00 to play.
On the winning drive, Tusker Mac Sullivan took a slant into Mahopac territory at the 41 and Sullivan grabbed another huge catch with :41 to go on 3rd and 12, putting Somers on the Indian 29. A big run from Luke Savino and a pass from Fitzsimons set up Somers on the six with :29 to go. After Kearny broke up a play in the end zone to Dass on 1st down with :11 to go from the six, the Tuskers then lined up for a one-yard, game-winning plunge from Fitzsimons for the final margin.
"Don't wanna take anything away from 'Pac because they gave us their absolute best shot, but we just came out flat in the beginning," Somers All-NYS OL/DL Jake Polito said. "It's always hard with the DeMatteo Bowl and obviously it wasn't pretty. Nevertheless, we are 4-0. It's time to figure some stuff out as a team and keep on pushing."
Of note: Mahopac's three losses have come against teams with a combined 12-1 mark, including Eastchester (3-1), Pelham (5-0) and Somers.
"At the end of the day we have to keep going and make a push for the playoffs," Mahopac OL/DL Anthony Porco said after getting a sack and eight tackles on defense. "I'm proud of the guys and know what type of team we are after competing with a great Somers team, playing them with no fear. From here out, it's one step at a time, and we are a dangerous 1-3 team. Can't wait to get back on the field this week preparing for Sleepy Hollow."
Owen Ryan led the Indians with nine tackles.
LAKELAND QB Grady Leonard hit on 15 of 25 passes for 202 yards for the Hornets (2-3), including a TD pass to Sean Perry and another 11 catches by WR Anthony Jennings for 130 yards, but Harrison had its way in a 42-7 rout.
In YORKTOWN's 35-6 win over Nyack, Husker senior RB Justin Meyreles rushed for 148 yards and three TDs on 20 carries. Yorktown QB Kaden Gonzalez hit on 8 of 16 passes for 170 yards and two TD strikes to Ryan Cane and Christopher Constantine as the Huskers improved to 3-2 with Brewster on deck.
"I thought our kids did a great job of executing the game plan," Yorktown Coach Pantelis Ypsilantis said. "Our defense played excellent and both Justin and Kaden made some huge plays offensively. Having multiple contributions from those guys plus Delvecchio, Price, Constantine, Cane and Costello, that is when our offense is at its most dangerous, so we just need to keep grinding and working hard in practice as we head towards the home stretch of the regular season."
BREWSTER fell to 1-3 after a 44-20 loss at Clarkstown North Friday. North jumped out to a quick 14-0 lead before the Bears answered with a four-yard TD run by QB Massimo Parrello. Clarkstown answered with a TD to take a 21-7 halftime lead. After a North field goal, Brewster marched and capped a scoring drive with a 25-yard TD jaunt by Parrello to bring the Bears within 10 but it never got any closer.
"We came into the game wanting to limit their running game and we did a good job with that holding them to 47 yards of run offense," Brewster Coach Ed Mulvihille said, "but they took advantage of some miscues in our secondary and threw for over 300 yards. Offensively, we moved the ball well with close to 300 yards of offense but three turnovers put us in tough spots." Parrello continues to make plays and RB Joe Anfuso is running hard every game (he averaged 10 yards per run vs North). Colin Lamoreaux had 12 tackles and has been a rock in the middle from the LB spot. Kevin Fox moved to QB in the 4th quarter and threw a 25 yd TD pass to Alex Rienzi for Brewster's final tally. Yorktown is up next for Brewster's Homecoming.
"We have to right the ship," the coach said.
State-ranked (No.5) Rye remained unbeaten behind a 21-7 win over FOX LANE (1-4).
CLASS B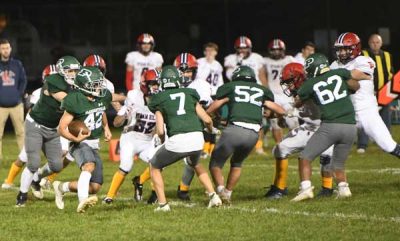 PLEASANTVILLE beat BYRAM HILLS, 17-14, in a game for the ages, on Homecoming Day in P'Ville where Panther RB/QB Aidan Picart found Erick Coleman for 28 yards to the 14-yard line with :13 left on the clock, setting up K Joe Sokich, who pinned a career-best, game-winning 32-yard field goal in yet another frantic finish by the Panthers.
NYS Class B runner-up Plesantville went up 14-0 in the first half off a pair of Picart TDs. The All-NYS Picart finished with an eye-popping 268 yards on 33 carries for the state-ranked (No.5) Panthers (4-0).
State-ranked (No.16) Byram Hills showed no quit, though, scoring the next 14 points. Byram RB Gavin Javorsky, who played a whale of a game, tied the score at 14-all by chugging for 168 yards and two touchdowns on 23 carries. Bobcat WR Sean Siegel had seven grabs for 108 yards from QB Jon Accurso, who connected on 12 of 25 for 123 yards. Trailing 14-7, Acurso found Seigel all the way to the Panther 35 with 1:20 left in 3rd, but when the team switched sides enter the fourth, Byram picked up a free first down on a penalty, setting up first and 10 from the 23, but on 4th and four the Panthers denied the Bobcats (4-1) with 10:49 left.
A poor Pleasantville possession ended with a 3-and-out with 4:19 to play and the Bobcats still alive at their own 15 with three timeouts and a chance to rock the section.
With 2:49 left Seigel reached the P'Ville 42, and another 10 yards by Javorsky to 32 with 2:15 left to the 33. A Seigel catch brought Bobcats to the 16 where Javorsky went untouched to paydirt with 1:38 left for a 14-14.
HEN HUD just can't get on track this season and the Sailors fell to 0-4 after a 21-20 loss to Nanuet.
CLASS C /D
State-ranked (No.17) VALHALLA took an easy 40-6 win over Woodlands, who trailed 40-0 at the half as the Vikings improved to 4-0.
State-ranked (No.4) Tuckahoe's Michael Annunziata romped for six TDs in a 40-14 win over host PUTNAM VALLEY Friday. PV junior RB Ricky Meister continued his ground assault, rushing for 95 yards on 18 carries and Micahel Leone scooted for 36 yards on eight carries, including a TD for the Tigers (2-2, 1-1). PV QB Thomas Cunningham was 6 of 12 in the air for 28 yards and a rushing TD.
HALDANE's RB Evan Giachinta went off in the Blue Devils' 41-16 win over Rye Neck. The sophomore carried 15 times for 221 yards and three TDs while QB Ryan Van Tassel added 152 rushing yards and a score. Van Tassel also hit on 7 of 9 pases for 135 yards, including a pair of TD passes to Thomas Tucker and Michael Murray.
INDEPENDENT LEAGUE
PANAS QB Travis Carlucci continued to look the part of the best signal caller in the league aftering seven carries for 171 yards and three touchdowns. The junior also threw a touchdown and returned a punt 80 yards to the house in the Panthers' 45-7 win over Edgemont. Panas RB Paul Ronga took nine carries for 81 yards and two tuddy's for the Panthers (4-1), who won their fourth straight.
Examiner-area football coaches are encouraged to send stats and comments after each game to rgallagher@theexaminernews.com for inclusion in our weekly Grid Notebook. It's the least we can do for our kids.