Business Profile: Tri-State Engineering, Yorktown
We are part of The Trust Project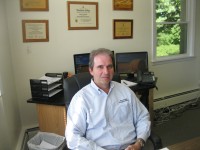 This is a landmark year for Tri-State Engineering, which is celebrating its 20th anniversary in Yorktown.
New Milford, CT resident Bradley Huntington opened his northern Westchester business in 1995 and he also operates a business in the community where he lives, which opened five years ago.
"The bulk of the work that we do is pre-purchase home inspections for people going out and buying houses," Huntington said recently in his Yorktown office. "We also do pre-purchase commercial buildings for corporations or companies." The commercial buildings include apartments.
"We'll go out before they purchase it and do an evaluation of the building to determine the condition of the building and what improvements or what issues may exist with the structure," he said.
Huntington said his firm's inspections help his clients determine if they want to purchase a building and what type of expenses they would incur to make improvements if they decide to do so. "They could take my report and say the house needs a new roof. They may want to negotiate that with the seller," he said. .
The firm also does investigations for insurance companies to assess property damage, he said. . For example, his company will investigate why a house collapsed.
Huntington said he chose his Yorktown Heights location because "It's the center of town."
Huntington said his clients come from a wide area that includes Manhattan, Westchester, Long Island, Dutchess, and Putnam.
"A lot of our business is word of mouth," he said. "We don't do much marketing."
Huntington, who is a licensed engineer, said he began his career as a student at Byram Hills High School when he worked with his father, Ross, who was a construction contractor. He interned with the Army Corps of Engineers at West Pont.
Huntington said he was satisfied with his career choice. "I have no regrets at all. It's been great," he said. "There's not a lot of us who do this type of work."
Tri-State Engineering is located at1992 Commerce St. in Yorktown. For more information, call 914-962-3692, visit tristateengineering.com or send an e-mail to bhuntington@tristateengineering.com.