Business Profile: The Training Zone, Cortlandt
We are part of The Trust Project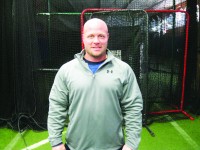 Yorktown resident Ryan Castle had a brief career in professional baseball, playing in the Chicago Cubs minor league system for three years
When his playing career ended in 1992, his involvement with baseball did not. Castle is one of the partners who own The Training Zone in Cortlandt.
"We offer instruction for youth baseball and softball. We have fitness instructors here for strength and conditioning training," Castle explained. "You can rent a batting cage."
Castle, who is a full-time manger and senior instructor at The Training Zone, said the facility offers its indoor areas to rent for those who want to provide training for other sports, including field hockey and lacrosse, as well as trainers on its staff.
"We do a lot of team training, especially in strength and conditioning," he said. His trainers have worked with sports travel teams from Yorktown, Cortlandt and Pleasantville from youth and older high school age athletes, Castle said.
Though the new baseball and softball seasons are a way off, people are booking time at the facility to prepare for the new campaigns. "Come January it's incredibly busy, because everybody's preparing for the spring" Castle said.
The facility offers a 40-foot-by-100-foot indoor multi-use turf field, a 60-foot-by-60-foot turf field, and three batting cages with pitching machines.
With the recent new ownership, "We do offer more instructional programs for kids now that we haven't offered in the past," Castle said.
The Training Zone opened two years ago in the building that formerly housed The Country Store on Route 202.
"We renovated the entire inside and a little bit on the outside. It was a big renovation," Castle said. "We liked the area. We knew that there was a need for this type of business in the area. This is optimal for people in Cortlandt, Yorktown and surrounding areas."
Children's parties are particularly popular at The Training Zone, Castle said. A child can choose a game, such a kickball, dodge ball or baseball, to play at the facility. Food and drinks and instructors to run the games are part of the party packages, Castle said.
"I do a lot of the instructing myself I've been doing it for over 10 years now," Castle said.
Prior to becoming a partner with The Training Zone, Castle owned a Frozen Ropes training center in White Plains.
Castle is a graduate of Westchester Community College and Mercy College and has a business degree. His son, Tye, a sophomore at Yorktown High School, is a football and baseball player at the school.
Castle said business is good at The Training Zone. "The first couple of years here it's a new business, people were getting used to it,' he said. "I've seen the growth of the business in the last two years."
For more information about The Training Zone, call (914) 930-7853 or go to www.thetrainingzone.com.