Business Profile: Raffa Laser Center, Patterson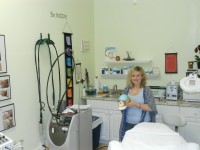 In the beauty industry for more than 30 years, Cheryl Raffa's first profession was styling hair. Then eleven years ago, even though she remained in the same field, she began to develop an interest in different aspects of beauty.
"I did hair for so long and I've always had like an interest in skin and I wanted to expand on that," Raffa said.
With that idea, Raffa Laser Center treats a wide-range of skin and hair conditions to make customers look and feel their best. Hair removal, various skin, and anti-aging treatments, all help customers defy their age. On top of that, Raffa offers cranial sacral therapy (a noninvasive form of bodywork that addresses bones in the head, spine and sacrum that releases compression and relieves stress) and Reiki energy treatment (a technique that channels energy that activates natural healing) to further enhance her customers' lives.
Free consultations are offered for first-time clients and the questions can vary. Raffa's business is inside her husband's hair salon in Patterson and gets boosted exposure that way. She's also offering something that most residents don't see in Putnam.
Raffa, a Dover resident, stressed treatment for things such as hair removal are never just one treatment. It can take several months and a series of treatments for the final solution to be reached. For instance, for hair removal of underarms (a common request for women) the appointments spread between 6-8 weeks.
"You're actually disabling all the hairs that are in the active growth phase," she said, noting the laser targets the area in need of changing.
But the wait is well worth the final reward. Raffa said women glow with confidence as treatment reaches a conclusion and certain hair is removed or skin is a bit tighter.
"A lot of women do have self-confidence issues and then coming in, having the treatment, they feel much better afterward," Raffa said.
While the cliental is mostly women, Raffa said she also has men that come for treatment, particularly for hair removal on their backs and shoulders. She also does facial grooming, which eliminates neck hair that isn't part of a beard and more of a nuisance when shaving.
Regarding the cranial sacral therapy, it can help with people who have attention deficit disorder, autism, orthopedic problems, chronic fatigues and host of other physical issues everyday people face. Raffa's daughter has autism, so she does the treatment on her and knows for a fact it works.
When people come in, no matter what treatment or procedure they need, Raffa wants them to be comfortable. Many prospective clients will call her to talk over the phone hesitantly about what they want, and she encourages them to come in and see for themselves.
"Sit down, we'll talk," she said. "And like I said, I want you to feel comfortable with the treatment no matter what you're having done."
Raffa Laser Center is located at 3101 Route 22 in Patterson (in the same lot where the former A&P used to) and its phone number is 845-319-6587. Its website is http://www.raffalaser.com