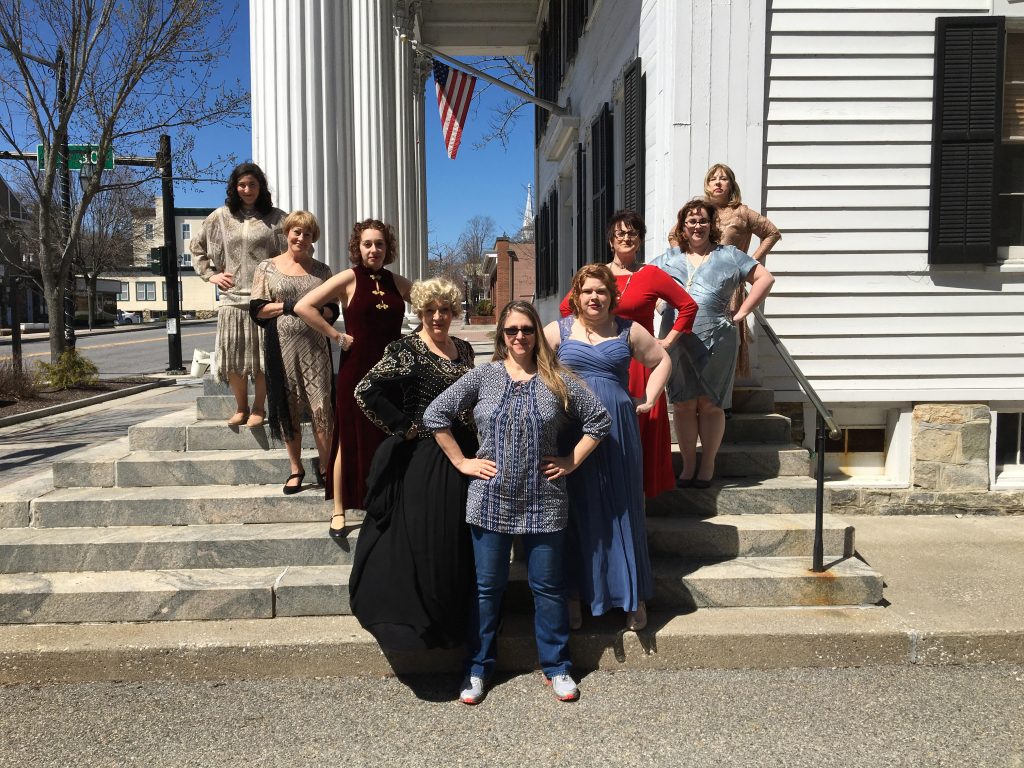 Brewster Theater Company will stage the 1936 groundbreaking Clare Boothe Luce play "The Women" at Drew United Methodist Church from May 10 through May 19. Set in the world of pampered Manhattan socialites during the Great Depression, this show is an entertaining panorama of metropolitan lifestyles from the feminine viewpoint.
A social satire, "The Women" centers on the female-only cast playing their respective roles in a society that consists of vain show, comedy, tragedy, hope and disappointment. After learning that her husband is having an affair, Mary Haines travels to Reno, Nev., where liberal divorce laws attract many society women wishing to downplay any potential for scandal. The author carries us through a number of scenes, and digging under the surface, reveals a human understanding for, and sympathy with, some of its outstanding figures.
From the Director, Stacy Dumont
Stacy Dumont of Patterson is a co-founder of The Brewster Theater Company, now in its 18th year. She is a high school special education teacher and director of her school's musicals. She most recently directed BTC's "12 Angry Jurors" and
Pawling's "Anything Goes."
"I had only heard of 'The Women' about a year ago, and what intrigued me most was casting 30 women" she said. "I could have quadrupled roles, but instead thought of it as a wonderful opportunity to highlight all of these women and give them all a chance to play on our stage."
"When you hear, 'The Women,' you might think of it as an empowering feminist piece, but it's about the finicky nature of female relationships, both positive and negative, and the personalities we encounter in our various circles," she added.
From the producer, Joe Manuele
Joe Manuele last produced The Brewster Theater Company's production of "Deathtrap" and was last seen on stage as Roy in BTC's "The Odd Couple." He is currently the controller of The Riverside Yacht Club in Connecticut.
"It's a great show especially for the guys as it proves to be quite educational," he said. "This show is the original 'Real Housewives.'"
About the set design
Christopher Gladysz is BTC's artistic director and set designer for "The Women." Of the show, he said, "The goal was to create the frenetic metropolis of the 1930s that these characters inhabit, without pulling the focus away from the ladies acting on stage. The gray tones of the scenery were chosen so that the colors of the costumes and the hairstyles and the 'jungle red' of the fingernails would pop."
The cast
The cast includes Gina Stanton of Carmel; Carolyn McCarthy of Brewster; Jenna Isabella of Cortlandt Manor; Judy Brewster of Brewster; Amanda Booth of Holmes; Laurel Letteiri of Norwalk; Diane Preston of Carmel; Casey Silidjian of Mahopac; and Regina Furphy of Hopewell Junction.
Stage Manager is Samantha Steere of Brewster.
When and where
Showtimes are 7:30 p.m. Thursday, May 10; Friday, May 11; Saturday, May 12; Friday, May 18 and Saturday, May 19 with a 2 p.m. matinee Saturday, May 19. Tickets are $20 for adults and $18 for students and senior citizens. Drew UMC is at 28 Gleneida Ave. in Carmel. For information or to order tickets, please visit www.brewstertheatercompany.org or call (845) 232- 0739.